Top 5 Henley inclusions for 2021
At Henley, we adore our inclusions. We love our customers having opportunity to customise their homes as we continue to work closely with our suppliers in getting the best products possible.

We are meticulous in our approach to what a family home wants and needs to make it feel special, every day. Adding luxury into your home does not have to be aspirational. It is a reality. That is why we have introduced the Everyday Advantage.

Henley Design Team Leader, Lauren Naor, shares the top five inclusions everyone is loving in 2021, where Henley continues to refine the art of standard luxury!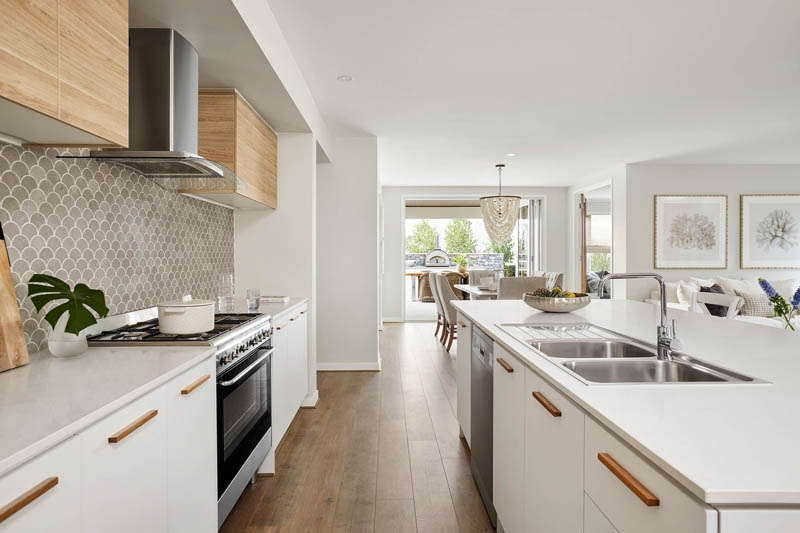 The top five

According to Lauren, the top five inclusions touches every aspect of the home.

"The five favourite inclusions that our clients are loving in 2021 for our Collection and Reserve homes are Caesarstone™ benchtops throughout the home, double glazing to all windows, SMEG™ appliances to their kitchen, COLORBOND® roof and soft close cabinets to the kitchen."

"As most of our clients have spent 2020 at home, the real focus for 2021 is creating a comfortable environment for their family to spend majority of their time. Working from home has also changed the priorities for our customers, as well as they now require their home to be practical and also comfortable for them to work from.

That is why the most popular inclusions are not a huge surprise!

"This is where inclusions such as stone benchtops throughout are very easy to clean and maintain all year round. Double glazing to all windows keeps the heat inside the home when its cold outside and the heat outside when it's hot, creating comfort all year round. SMEG appliances in the kitchen is a reliable brand that makes cooking breakfast, lunch and dinner a breeze. A COLORBOND® roof low maintenance and also a great roof choice for added security measures. And finally, the demand for soft close to the kitchen means no slamming of cabinetry - keeping the peace and quiet in the home when someone is working (or watching their favourite show!)"

My favourite inclusion

"My favourite inclusions are the Caesarstone benchtops throughout. Showcasing a beautiful benchtop not only in the kitchen but also in other wet areas such as the laundry (as standard in Reserve homes) and bathrooms is simply stunning."

"I also love the fact that we offer, as standard, more than 250 Laminex cabinetry colours! It gives the clients the opportunity to really personalise the home to their taste and make it their own."

Inclusion value

According to Lauren, inclusions are important to clients as it gives them the feeling of value for their money.

"Building a home is one of the largest investments our clients will ever make, so it's crucial that the clients feel that they are getting the most out of their build. Inclusions are also important as the more items that are standard within the build cost, the clients have the option to really customise the home to suit their style and taste. That is why Henley's Everyday Advantage makes new home decisions a little bit easier and much more affordable.