Single Storey Home Designs
Henley Single Storey Homes For Modern Living
Explore our collection of single storey home designs created with modern lifestyles and families in mind. Our floorplans are priced to meet any budget, and with sizes ranging from 16-38 squares, to suit 10.5-31 metre+ lot widths. You can achieve your ultimate dream home design with Henley.
Focussed on modern living and everyday life, you don't need to compromise with a Henley home. Each home can be customised with our pre-drawn structural floorplan options, including single storey façade choices and better finishes and fixtures included at no extra cost – to make your home design uniquely yours.
Contemporary Single Storey House Designs
A welcoming place to call home
Henley single storey homes are designed for Australian families, so you feel welcome, organised and relaxed, whatever space you're in.
The exteriors of our single storey homes are modern and sleek, with clean lines, plenty of texture and a welcoming entry area. Home designs and our single storey façade range can be mixed and matched to suit your preferred style.
All our designs feature free-flowing spaces, plenty of natural light, seamless indoor-outdoor transitions and functional bedroom spaces with plenty of storage.
We offer a range of customisation options, including Colorbond Steel(TM) or concrete roof tiles in up to 29 colours, and the whole Dulux range of colours for exterior painted surfaces.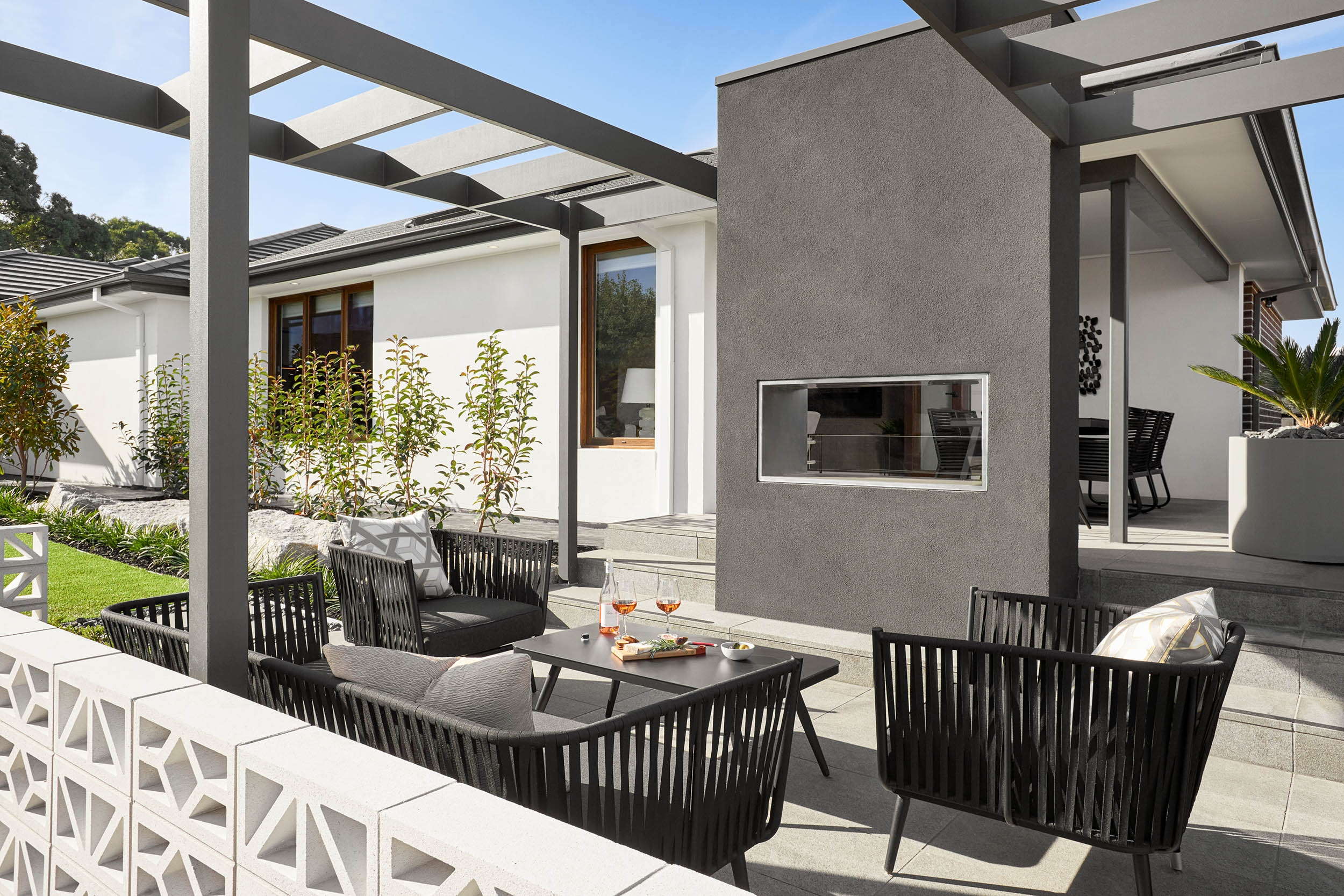 How to choose the perfect single storey home
Tips for getting started
Our single storey homes are designed right here in Australia for the Australian lifestyle. But with so many options, it's hard to know where to start.
Henley's design specialist Bec Dunn has some great tips if you're building your first home, looking at house and land packages or trying to resolve your tick list of must-haves against the many single storey designs on the market.
"It definitely helps to have a process. Otherwise it can get quite overwhelming. Once you have a clear idea of your budget and desired location, start by identifying what your family needs. Write a list of the essential inclusions and features. Then begin looking at single storey house plans - while it's always tempting to start with how it looks and feels, it's best to work with layout and functionality first, then move to aesthetics."
Bec has some great suggestions on what to consider when you're walking through single storey display homes or doing virtual tours.
"Picture yourself and your family in the space. Imagine yourself getting the kids ready for school, getting home from work, having dinner with the family or relaxing with friends on the weekend. Does it feel right for you? Does it work with the flows of your family?" Bec said.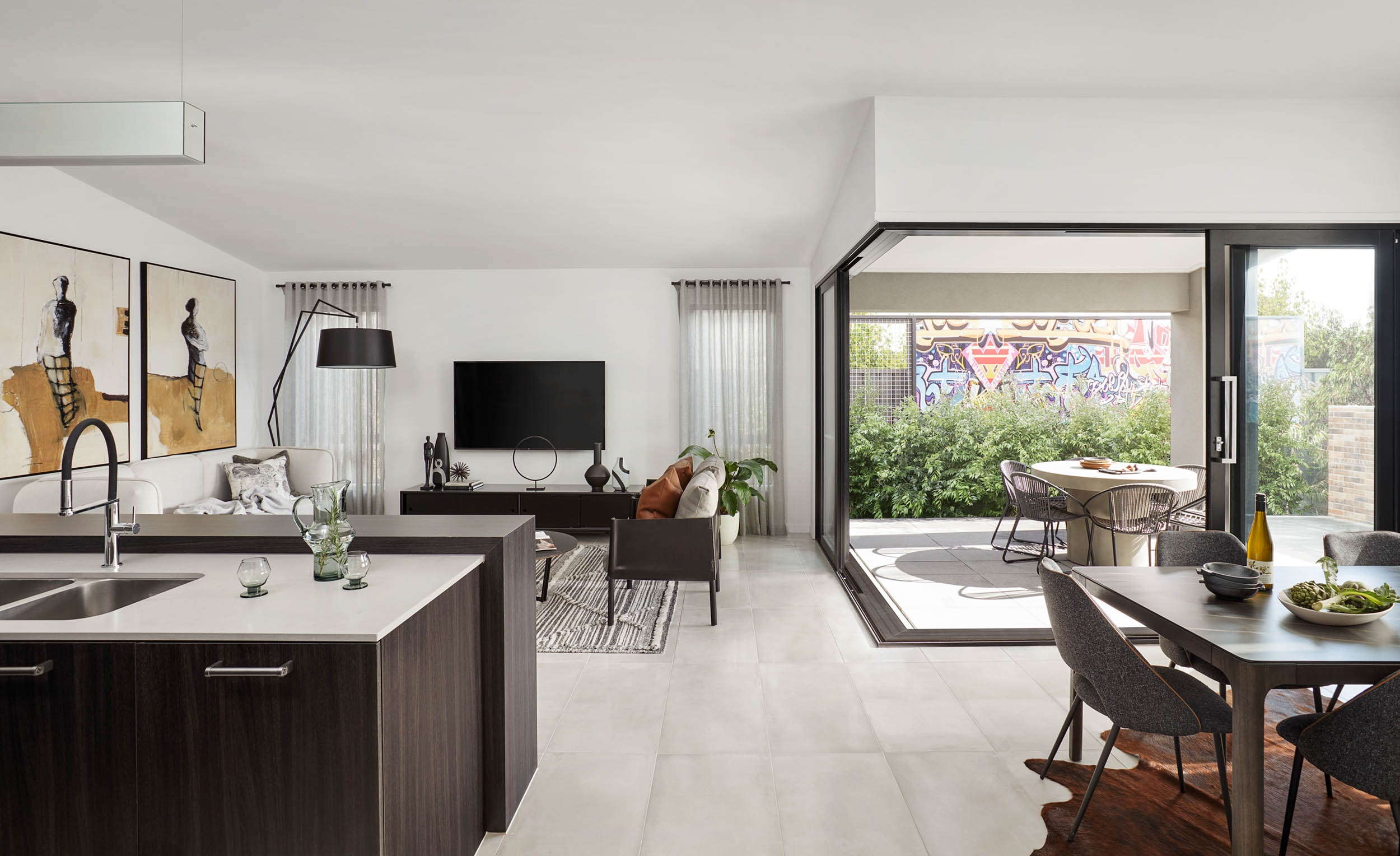 When to choose a single storey house design
Seamless transitions and open plan living
If you need help determining whether a double or single storey house design is right for you, we can help. Bec says that people are more likely to choose a one-storey house when there are specific family considerations or personal preferences.
"When considering building or buying a new home, think about how your family lives, especially when it comes to entering and exiting the home, how much time you spend at home, the rooms where you like to spend time and how you want to move through the building," s/he said.
"For people who enjoy seamless transitions between spaces and open-plan living, a single storey build can be a better option."
Bec says explains the reasons some people prefer to opt for a single storey house design.
Improved accessibility
Single level houses offer improved accessibility and fewer or no stairs, making them popular for people with mobility issues, families with young children.
Budget considerations
Less material and labour means lower overall construction costs, depending on the size of the home.
Lower maintenance
Single storey homes are generally easier to maintain. There are no upper levels to paint, repair, or clean and the roof is more accessible for maintenance.
Seamless movement flows
If you prefer free-flowing movement between rooms in your home and more open, connected living spaces, a single floor home may be a better option.
Future-proofing for your family
If you're going to build or buy a forever home, it's a good idea to consider your needs as you age. Due to their easy accessibility and lack of stairs, single storey home designs are more popular with people who are looking to the future and considering their long-term physical and mobility needs.
Natural light and ventilation
If you love natural light and plenty of fresh air throughout your home, a single storey home can offer more light and better cross-ventilation, reducing energy costs.
Beautiful single storey house plans
How to narrow down the options
Deciding on a single storey floor plan can be overwhelming, especially for first home buyers. Exploring the following questions may help narrow down the options.
Ask yourself the following:
Where will the master suite be? At the front or rear?
How many bedrooms and bathrooms do you need?
Are there existing surrounding homes that need to be considered?
What is your block size?
Are you working with a narrow block, sloped block or unusually shaped block?
Does your dream home include an outdoor oasis or sanctuary that requires a larger backyard?
What are your other must-haves, such as a butler's pantry, large kitchen, open and airy living room or loads of practical storage space?
Discover Henley single storey home designs
A design for every lifestyle
Design is in our DNA and we offer an extensive range of contemporary home designs to suit a range of block sizes and budgets. With a growing trend towards narrower blocks, we've invested in a new range of spacious, functional and affordable home designs for the most common blocks between 12.5m and 14m wide.
Bec offers some tips for which home designs to check out based on your top priorities.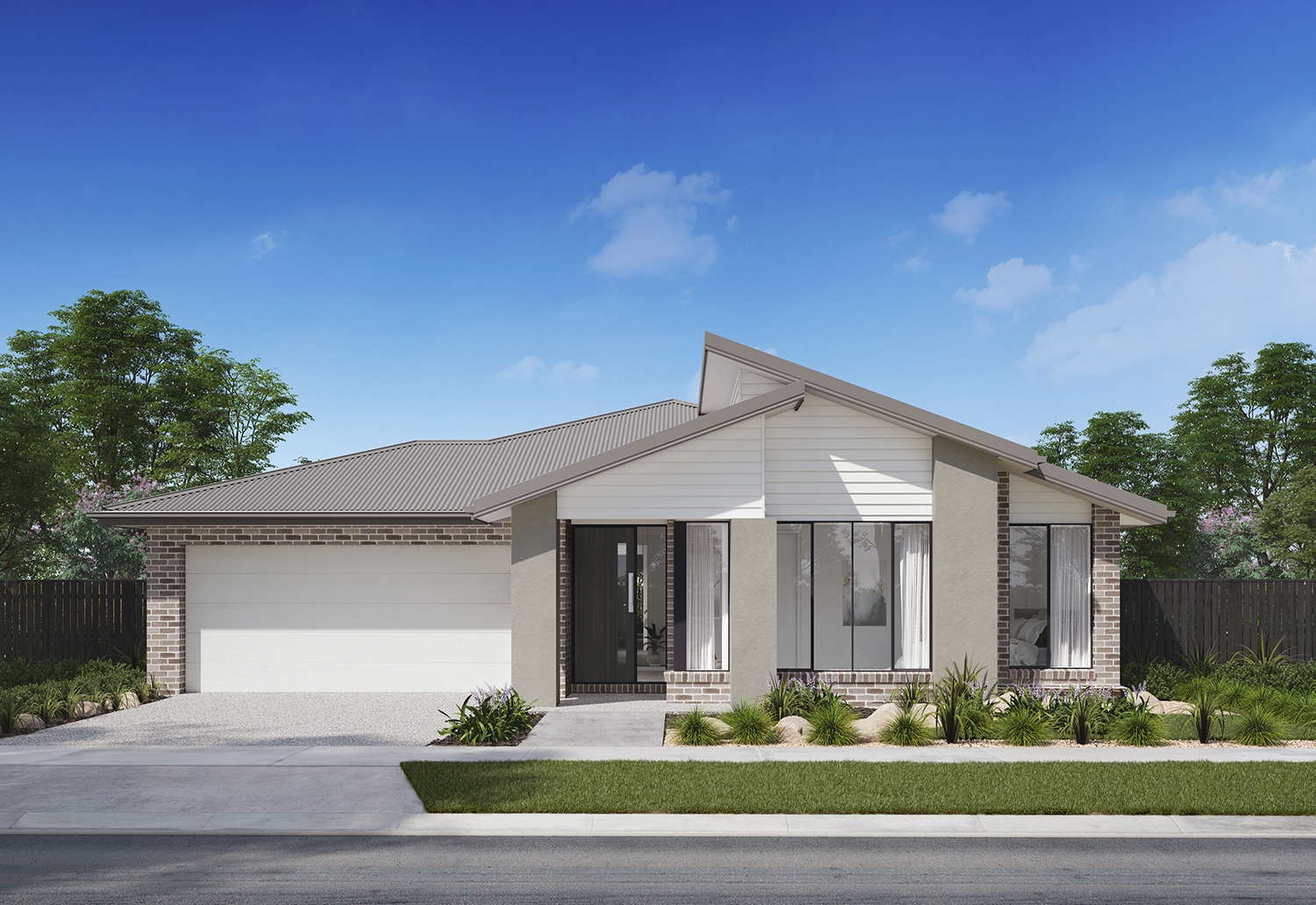 Find your ideal single storey home
Talk to our sales consultants
Henley Properties Group was founded in 1989 with a vision to make home ownership more affordable for Australian families. Over 50,000 Australians have chosen us because we understand choice and what it means to have a home that suits you.
Our clever modular approach to design and home building means our single storey floor plans are interchangeable. Flip for a mirror image floor plan to suit your preferences.
Designs that suit your lifestyle and block of land
Floorplan options that can be quickly quoted
Clever designs for more compact block sizes
Lots of options across our standard inclusions.
Explore our diverse range of single storey home designs above, check out our display homes or find a completed home for sale in various locations across Victoria. Or contact our friendly sales team on 03 9574 5333 if you have any questions.
Our guarantees and support
The confidence we have
in our work and our people
is reflected in the fact we offer
the most comprehensive array
of guarantees and support
in Australia.
Find out more »