The laundry love affair
Despite the love/hate relationship that we have with our laundries, having it set up properly and at the same time, making it look grand is always important.
Gone are the days when a laundry was a sterile and poky space which lacked personality and panache.
Today, a lot of planning and details are injected into creating the ultimate laundry, achieving a perfect balance of functionality and form.
Emma Taylor, Henley's Senior Interior Designer, sets out her ultimate laundry wish list and has shared it with us.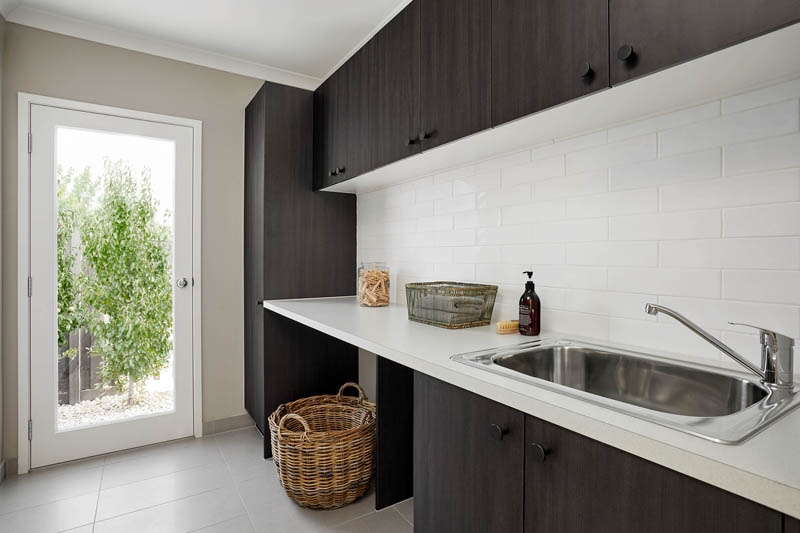 Must haves
According to Emma, the laundry needs to be a space that's functional and easy to navigate to make the sometimes, tedious task of doing a load (or three!), a tiny bit more enjoyable.
"Space and storage is certainly a priority. A tall cupboard is ideal for brooms, mops and vacuums, while smaller spaces are perfect for buckets, and cleaning solutions. In the Aegean 38A which is on display at the World of Homes in Clyde North, you will find an abundant of overhead and under bench storage, plus a handy broom cupboard, allowing for all items to have a home."
"Another must have is a rail or rod for hanging or airing clothes. Rather than having clothes drying over chairs or clothes horses around the home, keeping it all contained in the laundry is a much neater option.
"A lot of people forget that the laundry is often the gateway from the backyard or garage to the rest of the house. Considering using all available walls, such as hooks, which is showcased in the Aegean 38A Clyde North display, for hanging anything from dog leads, over coats, hats gardening gloves and shopping bags." Emma adds.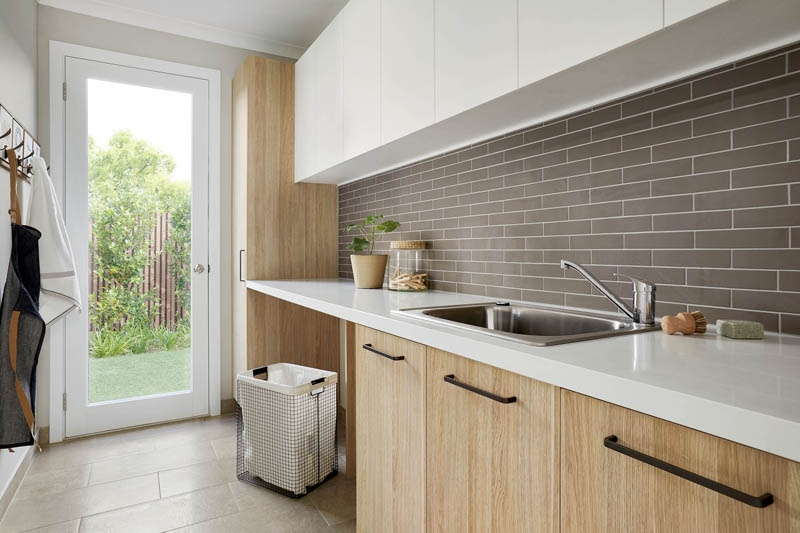 Light and bright
When it comes to the look and feel of your laundry, try to style it as an extension of your home.
Emma says, "As a utility room, there is no need to go overboard, but you want it to be a room that you feel good about going into. Keep the laundry light and bright by add a tiled splashback, perhaps in a mosaic format for colour and texture. A hanging plant such as a chain of hearts plant, is a lovely feature and adds a bit of life and splash of colour. This plant species doesn't need much attention and looks lovely hanging in a window.
"We love wallpaper here at Henley, and it's a great and affordable way to brighten up a room, give it some personality and add colour and texture.
"In the Henley Panama 32, which is displayed in the World of Homes in Wollert, is a stunning glass back door, allowing welcoming light into the laundry, creating an airy and expansive feeling."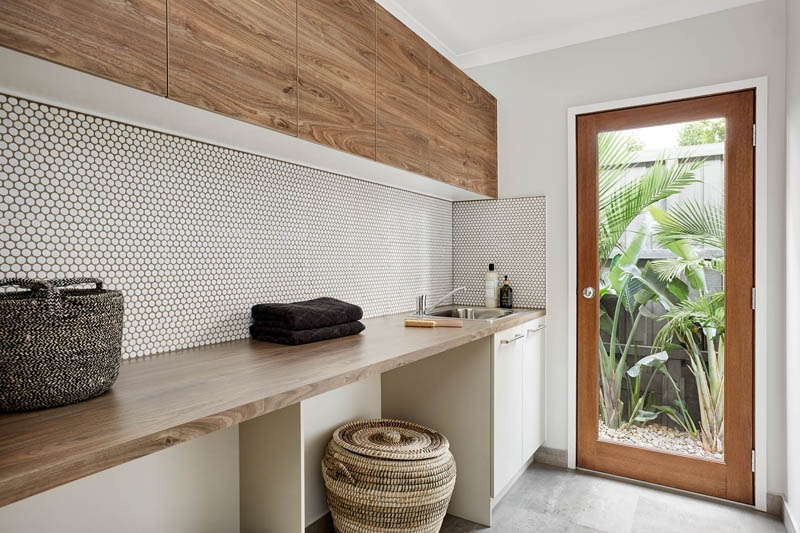 A touch of luxury
To make your laundry super luxe, consider installing a clothes' warmer which can fast track your laundry turnover!
"Airing Cupboards and drying racks, in particular the George and Willy rack, is simply a perfect solution to wet weather washing," Emma says.
"A ceramic butlers sink, adds that little bit of wow factor into an otherwise simple room, perfect for hand washing and filling buckets."
"Integrated cabinetry for your appliances create a sleek and tailored finish to the room as well. The Montessa 43, at World of Homes in Wollert have beautiful and lustrous cabinetry, creating an opulent look and feel."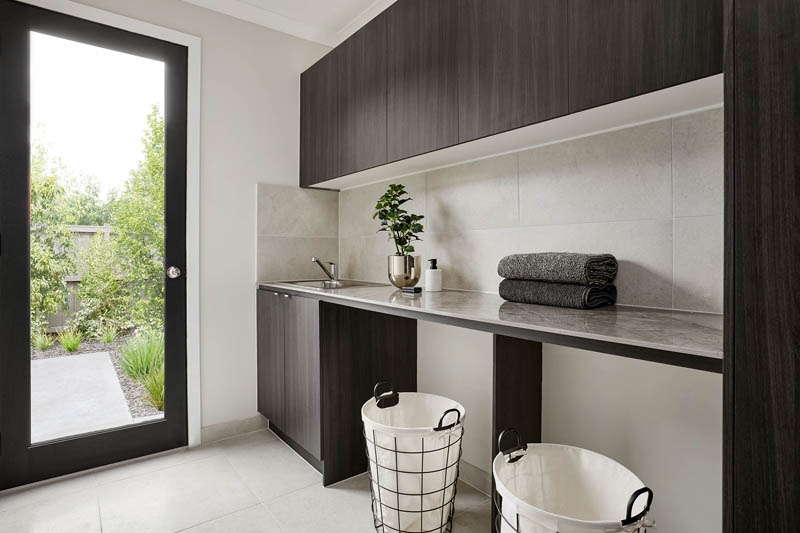 Big laundry no no's
Emma says, "Clutter should be avoided, keep the space nice and tidy. The laundry should not be a dumping ground for other household items. Try and be strict about it use as a utility room and you'll find more pleasure in using this space."
What personal touches do you make on your laundry?