How to be social - even in isolation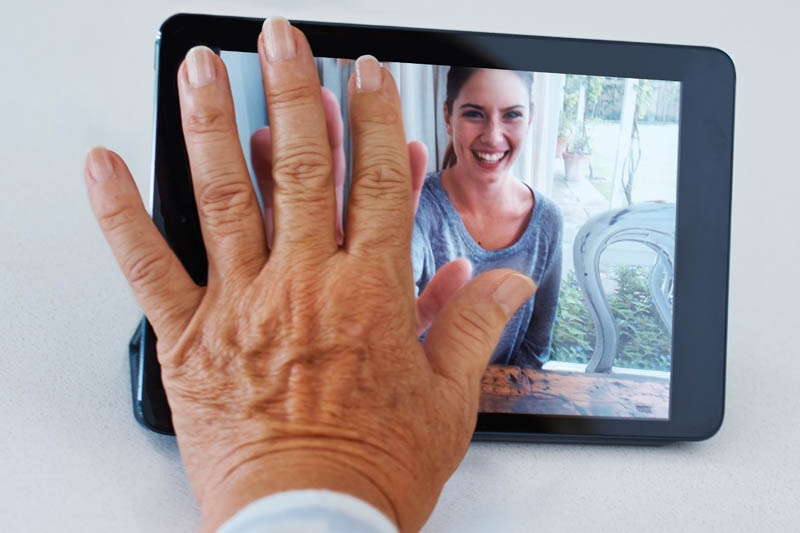 How to be social, even in isolation
Just because you are spending the majority of time at home, doesn't mean you can't continue to socialise – just take it online! It is time to be innovative in the way we connect with, and care for each other and stay in touch. You can still get your social fix with plenty of mobile chats and on-screen connections. It can still be engaging, and most important of all, fun. And who doesn't need more laughter than right now!
At Henley, connecting with families and loved ones is at the heart of what we do, so during these challenging times, lets maintain that human link, as Together, We Are Stronger.
Getting back to basics
There is a suite of technology out there to help us stay connected and be able to not only hear from loved ones, but also see them (like they were in the same room!) From Facetime and Zoom to Skype, a face to face conversation via your screen is only a username and link away. Most are free or very inexpensive to set up. For families who don't have that technology, pick up a phone and let your loved ones know you are thinking of them and reach out if they need help, especially the frail and the elderly. Hearing your voice could be the highlight of their day. Keep that commitment as the value of relationships has never been as important as it is now.
Having their virtual back
While you stay connected, be mindful of other people's changing situations. Your friends may have lost their job, their businesses have closed or they might be sick themselves. For many, financial challenges create a sea of other issues, so be present to their needs which might be the opportunity for them to vent or communicate their worries. Being an ear to them may be a significant comfort to them. There are also resources for you if you're feeling the same, including Beyond Blue and for those with new babies, Perinatal Anxiety and Depression Australia (PANDA).
Get entertaining
The latest reinvention of social activities during our extensive home time, is setting up online drink night or Formal Fridays. Put on your finest (PJs are for sleeping in) dust off a good bottle of red (or two) and get connected with your mates online. Share your week's highlights (sorting out the sock drawer!) and perhaps even have dinner at the same time. Take the time to get the ambiance perfect, whether it is a fine dining restaurant or a lively pub. Mood lighting. Check. Great background. Check. It's all in the detail.
Don't forget the kids
Remember that your kids need to stay connected with their teachers, hobbies and mates so help them set up their own online playdates with their besties, or maintain scheduled classes. They could do a group playdoh session for the young ones, a scavenger hunt, play video games or even have a go at a boardgame such as Battleship. The more outlandish the idea, the sillier it is, and the more guaranteed laughter that they will have. Piano lessons, ballet and taekwondo are all running online, and if your child has a regular hobby teacher, it can be so grounding for them to see them during this time! The kids might also be inclined to have a virtual birthday party – get the parents involved to ensure that no one misses out on the fun and the occasion.
However you decide to reach out to your family and friends, make sure you do it mindfully. We all have plenty of love to give - and to receive it, is invaluable.
How are you staying connected?