Henley moves into Gold place at Melbourne Design Awards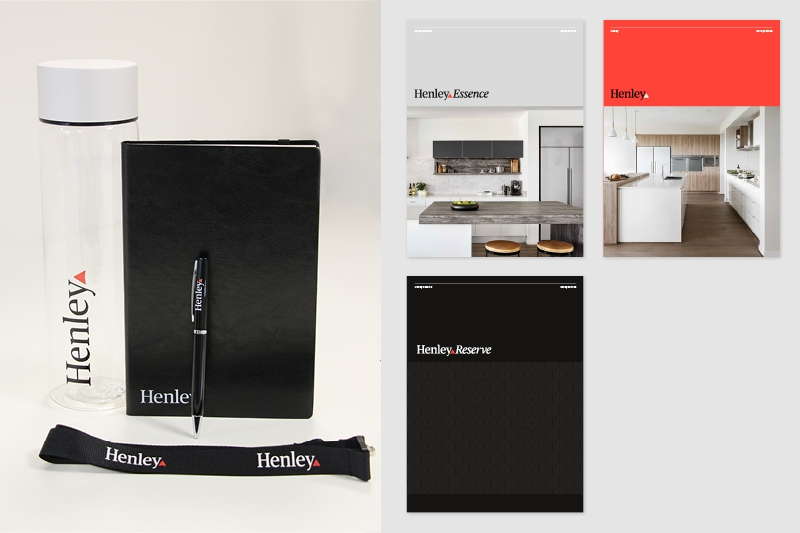 You might have noticed our new website, brochures, branding and identity – and we're thrilled to announce that the industry has too. The Henley rebrand was awarded the Gold medal in the prestigious Melbourne Design Awards Graphic Design - Identity and branding - Lifestyle category.
Collaborative creativity
This award celebrates creativity and innovation in the traditional or digital visual representation of ideas and messages. In collaboration with creative marketing agency, Hoyne, we successfully developed an all-new brand-positioning package that showcased and reflected our unique values.
Four pillars stand tall
Built on our driving pillars of Honesty, Transparency, Delivery and Support, the rebranding project was created to celebrate our defining qualities that help us lead the home building industry. Centered on the key consumer needs for reassurance and trust, we joined forces with Hoyne to raise the bar on what we offer and present to customers, as an overall business and as a leading Australian builder.
We have more than 27 years of industry experience to lean on, which has enabled us to refine all of our branding and collateral, from the logo and website to the brochures and design collection - making sure it's entirely relevant to our clients' needs.
Hello to an all new Henley
It may be a simple and informal greeting but "Say hello to Henley" reflects our commitment in being approachable and supportive to customers. Building a home is a significant life event, so we take great measures in creating valuable and accessible content, so that families have all the information to go the next step.
"The team at Henley is thrilled by this recent award, as it reflects our continued commitment in creating compelling ways to communicate to our customers and making the home building experience a rewarding one from the very outset." Jeremy Hanger, GM Sales, Marketing and Design, Henley.

A word from Hoyne.
"As an agency, we thrive on the opportunity to work with brands with the courage to revolutionise their sectors. Working in collaboration with Henley, we put ourselves firmly in the shoes of the consumer to redefine the buying and building experience. As a result we've been able to identify a clear point of difference and create a refreshed brand that engages the market with absolute focus. The response has been exceptional and it's great to receive further recognition through the Melbourne Design Awards". Dan Johnson, Partner and Group Director, Hoyne