Henley applies their knowledge on appliances
Handpicking the perfect appliances for your home may be an overwhelming task, especially with such a smorgasbord on offer. From energy ratings, size, colour and brands, the choices are endless.
But never fear. We asked Henley Design's Colour Design Consultant, Emily Beacham, for her insights on all-things appliances and how to choose the perfect appliances for your family home.
Henley has you covered
Henley offers a range of SMEG™ appliances as standard to Henley Collection and Reserve ranges and Technika appliances are standard to Essence Collection
Emily says, "Clients are spoilt with 900mm and 600mm options for their ovens, rangehood and cooktop. The Henley Design Showroom showcases all the standard options on offer throughout the stunning kitchens and appliance gallery. Clients are also able to upgrade to any appliance in the SMEG™ and Technika range.
Upgrading to an additional oven, built in coffee maker or wall oven can make a statement in your kitchen, especially if your floor plan includes a pantry wall.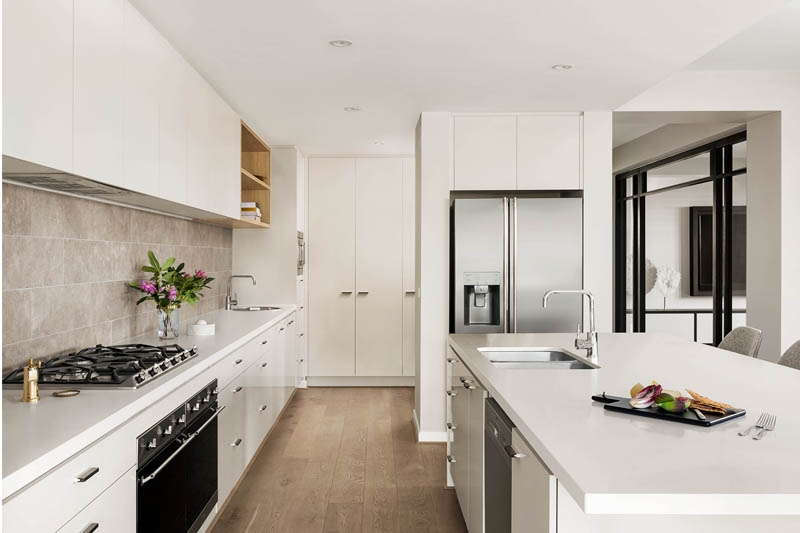 Appliance offers aplenty
"With most appliances already included, clients don't have to stress about sourcing them after handover. This allows clients to focus on the smaller details and styling when they move in," Emily says.
"Clients can either upgrade to select a microwave and custom trim kit to perfectly slot into their cabinetry, otherwise source their own after handover. Although fridges are not supplied, clients can request or customise their fridge space to allow for their fridge sizing."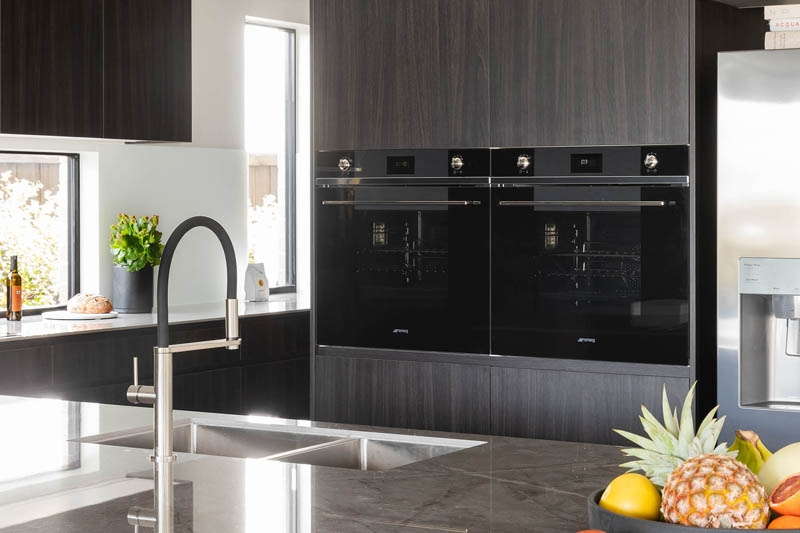 Focussing on the fridge
According to Emily, fridges should complement your kitchen by being stylish, easy to clean and highly functional. By following the below Henley guide you will be able to select the coolest fridge for your household.
"Consider what size will suit your space, how will the storage and layout work with you and your family? Make sure if you are buying a new fridge it is going to work in your kitchen. Determine what orientation the doors need to open to allow for maximum space when standing at the fridge. Although you can modify your fridge space, not every fridge will work for you, so it is important to examine the space you are working with."
"Think about what other finishes you have selected within your kitchen, keep it simple and consistent. French door fridges, with drawer freezers are hot right now and are available in most finishes. When selecting your fridge finish, test to see what marks may show and how easy it will be to clean."
Cooking in style
The ovens and rangehoods are not only highly-functional appliances in the kitchen, they are also important aesthetic elements which draw your eye to the space.
Emily says, "Sleek black or silver electric ovens complement the fresh colour palette of the kitchen cabinetry and offset the grand island bench as well. And for many clients, installing two ovens, is a must. The choice of rangehoods are also endless with modern and shiny styles on offer to suit all tastes and trends."
Washer and dryer wish list
"Laundry appliances need to be determined by the user themselves. Consider if you prefer using a top loader or front loader washing machine. We can upgrade your laundry and customise your cabinets to suit your washer and dryer combinations." Emily adds.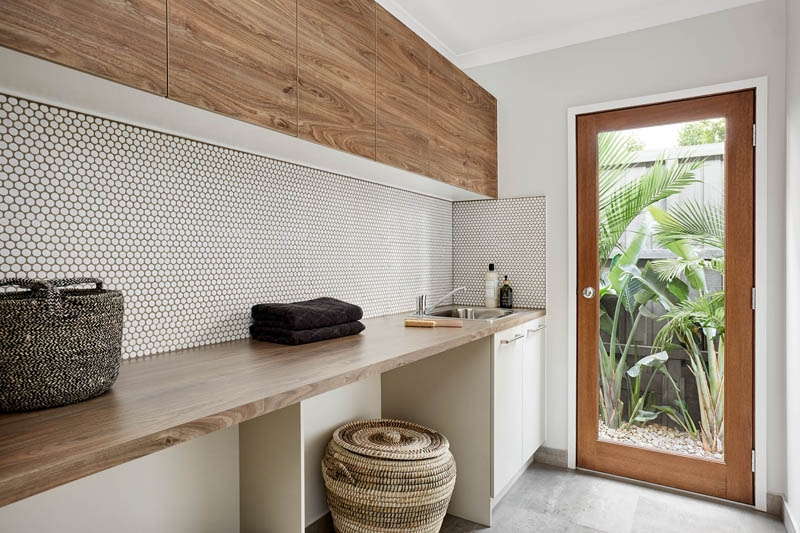 Must have 'special' appliances
For the first time, Henley will be offering a new head-turning kitchen option – the wine fridge. Wine can now be stored in a stunning glass fridge, perfect for the quintessential entertainer's kitchen. You can view it in the flesh at Henley's St Claire's Montessa 43 display in Wollert.
"You can really play with the space in your kitchen, by specifying under bench oven or built in wall oven. To keep your kitchen contemporary and clear of clutter, consider using a portion of your butler's pantry as an appliance bar. Locate all your appliances in one section eg. kettle, toaster and blender.
Appliances usually last for years to come so always consider style, functionality and maintenance when making any selection.