Butler's pantry benefits
The modern kitchen must-have, a butler's pantry, is the all-access place to not only store, stack, and see items, but also an area to manage preparations out of sight, keeping your entertaining and serving spaces absolutely beautiful.
From groceries, produce, crockery to appliances and storage, a butler's pantry provides the space to keep your kitchen organised and stylish, giving you the opportunity to host, socialise, and serve with ease everyday, or for special occasions.
Vicki Gillingham, Henley Design Manager, walks us through the butler pantry benefits, combining aesthetic appeal and multi-functional bliss.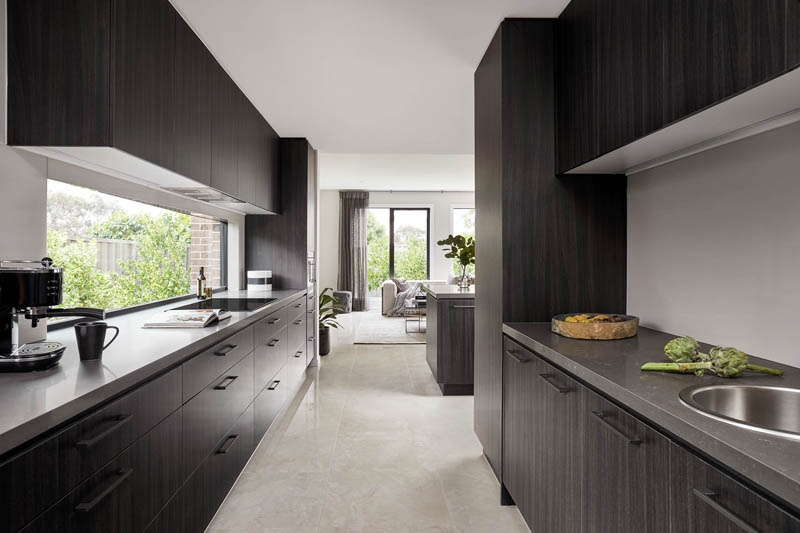 Add options for storage style
According to Vicki, the best way to determine your storage needs is to take stock of your current pantry and list all the items you have and use, as well as the items you would like to use – but don't currently because they're too hard to access.
"This list will help outline your shelving and drawer requirements, with the best solution often being a combination of deep and narrow shelving, as well as drawers and wire baskets. This means there are spaces to display the often-used ingredients, as well as store the occasional appliances, with easy access to them all."
Appliance-friendly
"Dishwasher, microwave and even a second oven or hotplate, the butler's pantry is a great place to install operational appliances, which means you can instantly remove the mess from the main area - to a tidy-later area," Vicki says.
"If you're a family that loves entertaining, it can also give you that additional capacity for preparation and cleaning so that you're not taking up serving space with preparation or waiting on the dishwasher to spin another cycle. A coffee machine, toaster, and kettle in the butler's pantry will also keep your main benchtops clean and tidy."
See your space

Task lighting is crucial in a butler's pantry, with over bench downlights and stylish pendants both a very popular choice.
"Being able to see into the shelves and drawers is a must, so you can keep track of what's running low on stock, and grab items at a glance. Natural lighting is also beneficial in a butler's pantry, with glass feature windows adding outdoor appeal to the indoor space."
Benefit from additional bench space
Benchtops in the butler's pantry are often an exact extension of the material and colours chosen for the main island bench, adding style consistency and an abundance of practical and stylish bench space.
"With Caesarstone™ benchtops as standard, enjoy the style and durability of a beautiful surface everyday." Vicki adds.
On display

Visit our display centres to browse the different combination and styles of butler's pantries and the various options available and let us know which is your favourite!