Celebrating 10 years of support for industry apprentices
Celebrating 10 years of support for industry apprentices
Henley is proud to celebrate its 10 year apprenticeship partnership with Housing Industry Association (HIA). Over the past 10 years we have sponsored over 189 apprentices.
Ms Nield, the Victorian Regional Executive Director for the HIA said that the 10 year partnership is a fantastic achievement for both Henley Properties and HIA. "It demonstrates their enduring commitment towards our industry's future capabilities and to the next generation of skilled tradespeople", Ms Nield added.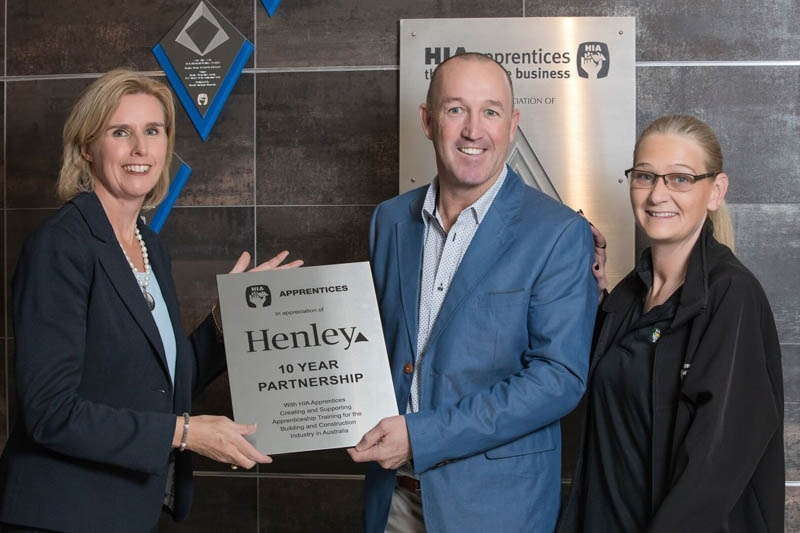 Fiona Nield, HIA Regional Executive Director, presenting certificate to Mark Glenn, Henley Building Manager with Nicole Fitzgerald, HIA Apprentice Manager
The trades shortage continues to grip our industry but at Henley, we know that apprentices are the lifeblood of quality building and construction, which is why we take the commitment seriously to recruit, train, support and develop the next generation of trades.
The quality of our homes can only be a reflection of our best tradespeople, so we passionately believe in investing heavily into their professional development, training and support – right from when they are apprentices, through to when they are growing businesses employing new apprentices.
A pathway for apprentices
Our Victorian Building Manager Mark Glenn believes the Housing Industry Association (HIA) Apprentice Program is one of the most positive ways to bring new trades into the industry. As a guiding path for apprentices, it allows both apprentices and Sub-Contractors freedom and flexibility to gain new skills with support and direction - but without obligation.
The flexible approach
"Apprentices can tailor their career path as they progress, and we work closely with Sub-Contractors to partner them with the individual trade they would most like to pursue.
"As an example, if we have an Apprentice Framer who is looking for something different, we look for opportunities to move them into Lock and Fix Carpentry," said Mark.
Adding that this ensures they are continually interested in, and committed to, the trade they are learning.
Building partners means progress
We know that to produce highly trained and quality tradespeople, we need to provide an environment that fosters skills essential to the ongoing success of our industry.
"Our founders and Directors passionately feel that the HIA program is a great opportunity to put back into the industry and we are proud of our 10-year history partnering with the program. We continually review and assess the program and our opportunities to drive support and development for apprentice trades, and bring the best skills and services to our industry," he said.
Apprenticeships Opportunities in Victoria
There's no shortage of news coverage about the declining number of apprentice trades in Australia – and there's no shortage of positions to fill, so we are always on the lookout for our next generation of trades – regardless of age or gender! So if you are interested in becoming an apprentice in the Bricklaying and Carpentry trades, please call the HIA on 1300 650 620, and advise them that you are looking for an Apprenticeship with Henley.
Get involved as an employer
If you are a Sub-Contractor looking for a fuss-free way to gain an extra set of hands, the HIA Apprentice Program takes away the burden of wages and administration, and streamlines the process so you can focus on training your new apprentice.