The joy of the choices, Henley style
The old saying 'spoilt for choice' never rings truer when you decide to build your family home with Henley.
Setting aside that Henley is Australia's No.1 Home Builder, when you build with Henley, there are loads of other benefits to take advantage of. Due to the scale of production and the high-profile suppliers which Henley has joined forces with, there are significant advantages that are passed back to the customer. Not just price, but also variety as most products are provided at a set contract price given the volume ordered, which is often much less than retail due to the scale our orders.
Henley's Design Team Leader, Micaela Austin, goes through the bountiful choices on offer with Henley Homes, giving customers joy-filled possibilities in personalising every aspect of their new family home, at the base price.
Henley's exceptional level of standard inclusions
"Having worked at Henley Homes for more than seven years, I can say for certain that we maintain our values of quality and affordability, with an exceptional level of inclusions at an affordable cost to customers. We are proud to give our customers a 'World of Choice', meaning that they can customise their Henley Home with our standard inclusions and make it unique to them, at no additional charge." Micaela said.
World of Choice by Henley is just that – a world with more standard inclusions built into every home and unprecedented choice at no extra cost to personalise your home based on your budget and lifestyle.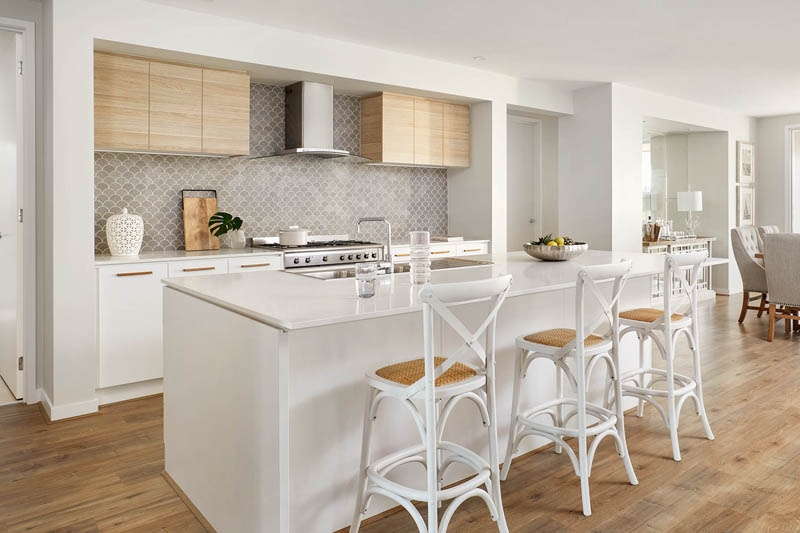 Leading suppliers
Micaela says, "Given the volume of homes we build, Henley is in a position to negotiate contracts with well-known suppliers such as Austral Bricks, Caesarstone, Laminex, and SMEG™. These companies are the leading experts in the industry and offer a diverse range of products - and we have the privilege to pass on not only access to their innovative products, but the best pricing.
"These supplier contracts enable us to offer a wide range of standard inclusions to our clients, whilst keeping the base home price down."
The joy of choices
There's building a new home, and there's building YOUR new home. At Henley, you get to personalise your new home with style choices by accessing more included choices.
"As standard, Henley Homes offer more than 250 laminate cabinetry colours, four brick choices, nine window colours, 17 stone benchtop colours and more than 40 tile options for wet areas, just for starters! The options and configurations with standard inclusions is exceptional and makes it easier to personalise your dream home and keep costs down, or even within the base price." Micaela adds.
"If this is your dream home, or your first project build, and you are wanting to upgrade on certain features and fixtures, Henley can cater for this too.
"Many of our displays are built on standard inclusions, such is the high level of value and choices in the base price, but of course our suppliers offer upgrade selections to amplify that personal touch.
"With Henley's extensive building experience, product insights and access to leading suppliers – we deliver choice, affordability, quality and innovation.
Step by step style
"Whether you're looking for a second opinion, or starting your style journey as a novice, we have a team of designer experts ready to assist.
"The Henley Design team is with you all the way, guiding you through the choices, and making it a creative and joyful process for you.
"With hundreds of items such as external and Internal elements that need to be confirmed prior to signing contracts, we have the samples in our showroom and the technology online to break down the choices so it is exciting. We promise it can be loads of fun!
"With Henley, you have the option to visit our multiple display homes to gather inspiration and my favourite part, our design showroom, Henley Design, to view all the products on offer. There you will find qualified Interior Designers, including myself to help and guide you to make the right choices."
We can't wait to welcome you home at Henley!