Small styling act, major interior impact
Small styling act, major interior impact
Sometimes it is the tinier touches that create a big style difference to a home. Handpicking specific pieces or designs, creates a stunning impact and a very personal touch to your family home.
Henley's Colour and Electrical Design Consultant, Abbie O'Connor, guides you through a selection of simple tips and tricks in choosing the smaller details to create the biggest of impacts.
Getting comfy with cushions
Scattering a few cushions from the living room to the bedroom, will help lift a room in the style stakes. The beauty of cushions is that they are often inexpensive and can be switched and swapped around, depending on the season.
"Texture and pattern are the key trends coming in to summer, lots of natural linens, rattans as well as thick cotton weaves in colors of the Australian landscape, rusts, khakis and blues paired back with dynamic blacks and whites. This is reflective of the laid-back Australian lifestyle." Abbie said.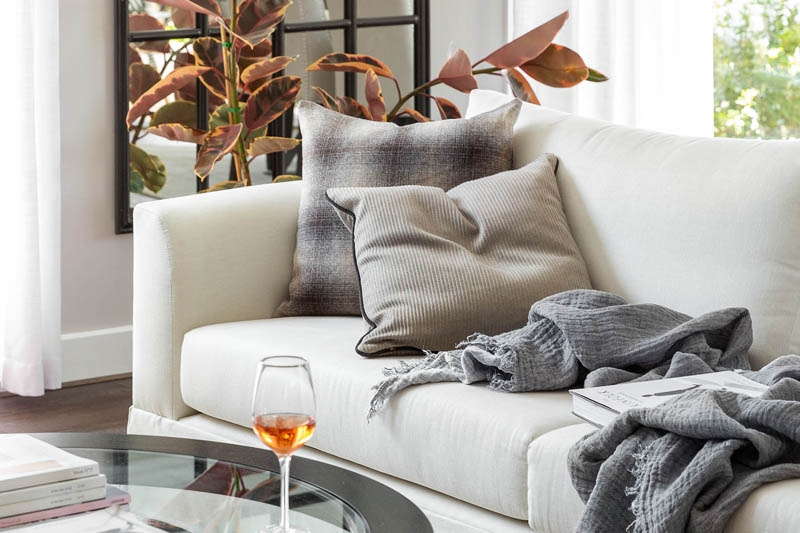 Heavenly hardware finishes
Small in size but packs a punch on the look of doors and cupboards are knobs and handles. Choosing the perfect knobs and handles can significantly change the look and feel of any room.
Abbie says, "This trend is also serving very popular in the renovation world in both kitchens or upcycling an older furniture such as tallboys or storage units. Rather than replacing the entire piece, we are finding people are adding leather straps as handles or wooden button nobs to bring the item back on trend. It is an inexpensive and effective way to achieve a clever and pretty result."
Light up the room
Lighting is making more of a statement in our interiors than ever before. Pendant lights, in natural fibers and oversized in some spaces, can be used instead of artwork or used to play around with proportion of having a large light and smaller art works as an unexpected twist.
"Wall sconces in playful designs are reemerging as practical and stylish way finding options as well as great bathroom lighting next to mirrors." Abbie adds.
Don't be afraid to accessorise
Hot on trend is having smaller pieces from nature to decorate your home.
A strong nomadic feel is popular. Items collected and gathered along travels and adventures being displayed to tell a story of the owner's interests and hobbies.
"Displaying items in different ways such as seashells in a vase or hanging a hat on a knob on the wall, these items help paint a picture of the life style the owners lead. Inexpensive, but yet, very effective."
Capture the moment
Showcasing family memories with wall photography is a perfect way to decorate a room and add that next level of personalisation. Whether in frames, black and white or a collection of the latest snaps from a getaway, photographs are stunning additions to any home.
"We are also seeing a shift from the traditional canvas paintings to timber framed photographs of both Australian and overseas landscapes or hand drawn sketches on paper. These tend to evoke a feeling of travel and memories which creates a well lived homely feel." Abbie adds.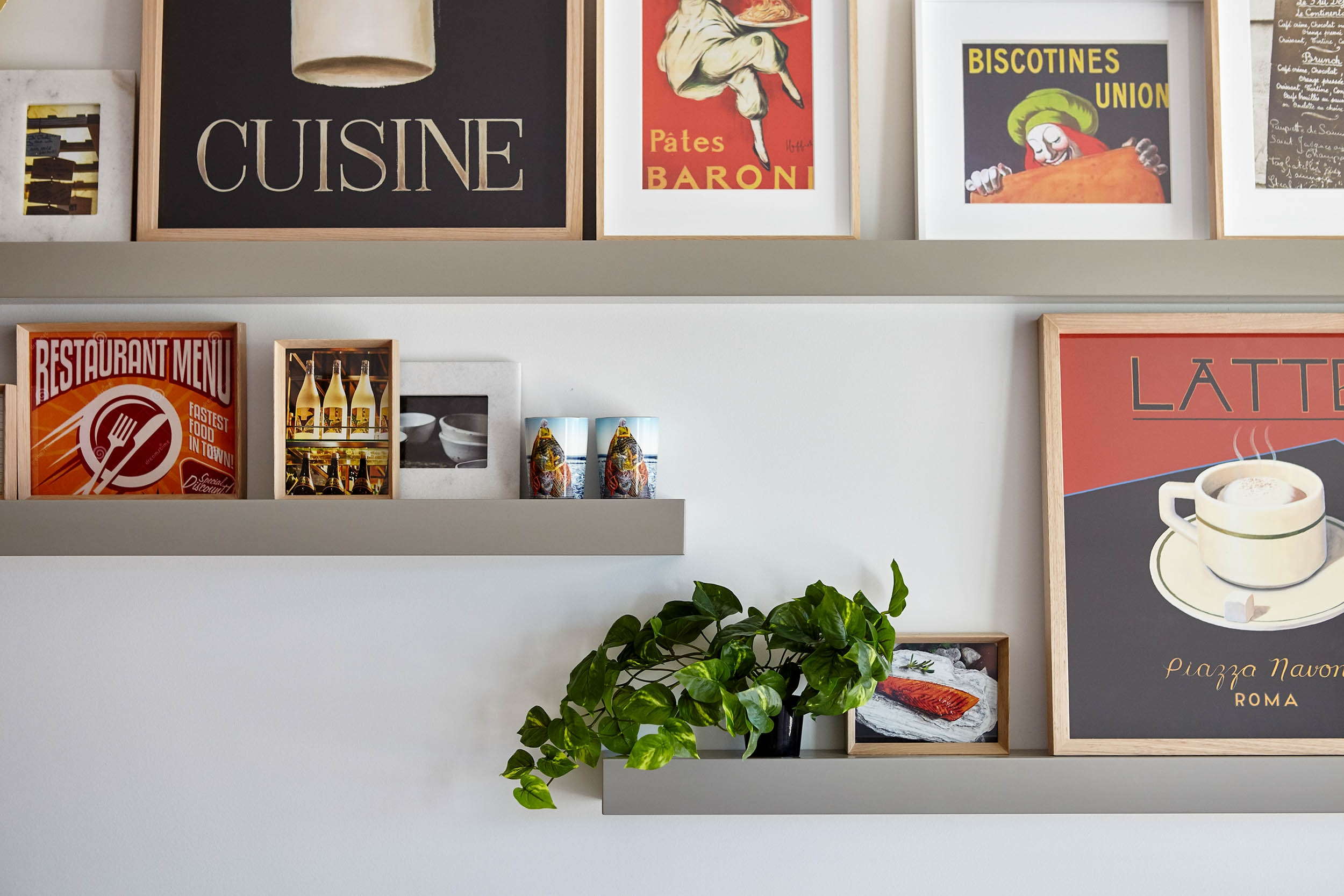 The magnificence of multipurpose
Less is more when it comes to furniture. Furniture having practical multi uses is very popular and practical. For example, a stool pushed against a wall that may store books during the week but can be pulled over to the living room for extra seating when entertaining.
"Oversized furniture becoming the interior also, such as bookshelves used to divide a space instead of a wall or a large ottoman being used instead of a traditional sofa to which makes for a more adaptable space. Hidden storage and appliance (integrated dishwashers and refrigerators) are proving popular to hide the everyday clutter that comes with life." Abbie said.
Add visual space with mirrors
"Instead of the mirror just being a necessity to prune ourselves, mirrors in a variety of shapes are being used more, especially in wet areas to create a visual impact in a small space to either open a space or provide an alternative to a traditional piece of art work which again acts a practical element to the home."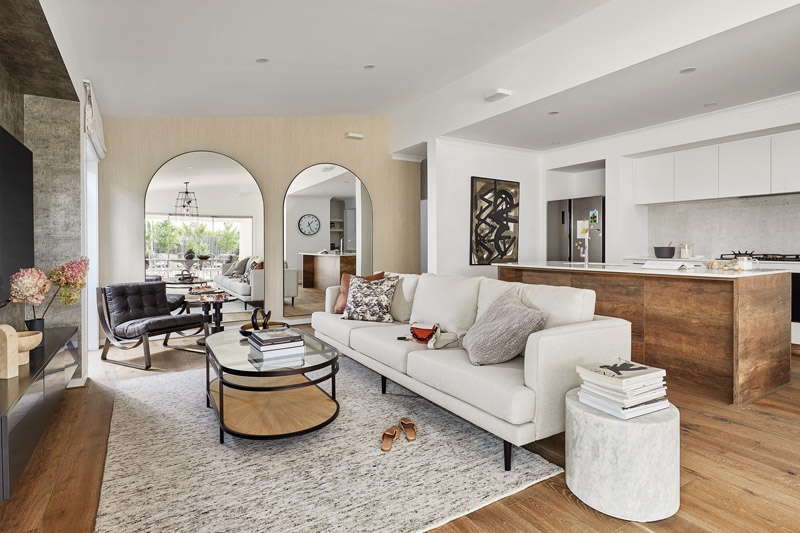 Seek out softness
Large oversized rugs with lots of texture such as seagrass in a natural neutral colour when using colored cushions or even a monochromatic scheme is very on trend. Moroccan rugs in bright colors being the one big statement are a great summer interior choice.
"An interesting trend we are seeing more and more is 'double rugging' or layering a smaller rug on top of another. Both the above styles could be mixed together well."
What are your favourite adds ons in your home which makes it special?