Sink into your style
The old saying 'everything but the kitchen sink' can be thrown out the window as the kitchen sink is one of the most important and beautiful features in a kitchen.
Not only functional, the sink can be one of the eye-catching features that pops, alongside the appliances, tapware and bench tops.
Henley's Senior Interior Designer, Nina Tophoven, sinks deep into her chic notes and shares what's hot with sinks and how you can sink into your personal style.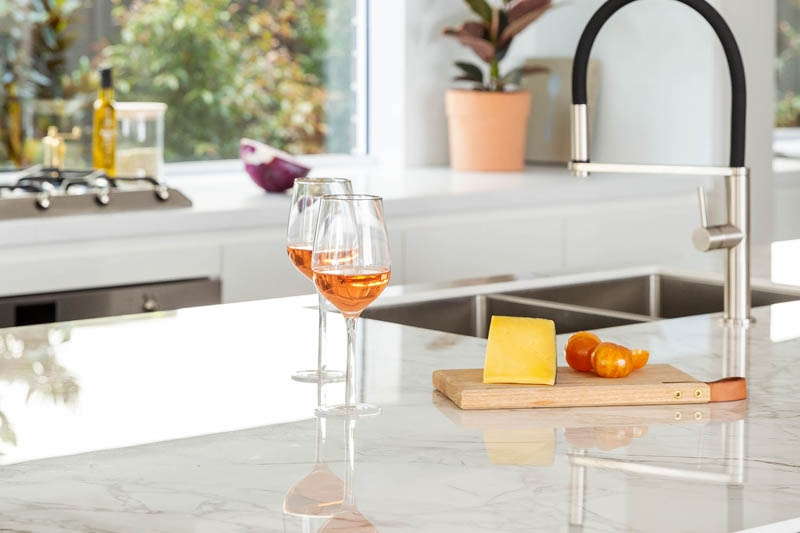 Sinking into style and colour
According to Nina, stone composite sinks are hot on trend.
"Made from 90 percent natural stone dust such as quartz and granite, these stunning sinks come in an array of colours including white, grey and even black. Because of their smooth surface, stone composite sinks are easy to keep clean."
"Other sink styles include the Hampton's inspired classic ceramic Butler's sink, the contemporary and solid surface sink, which flows right from the benchtop, and the ever-reliable stainless-steel sink which comes in a variety of sizes and designs."
"At World Of Homes, Truganina, we used a variety of sinks starting from the classic stainless steel double bowl with drainer in the Bravo 24 and then going to a more minimal look with the Franke Seville double bowl undermount sink in the Panama 28, Emperor 48, Monaco 28 and Palace 38. The Sahara 36 boasts the luxurious Franke Fragranite Onyx Kubus KBG double bowl undermount sink."
Mixing it up
There are many mixers and taps on offer and it comes down to personal preference, with The Henley Design Showroom showcasing a suite of choices.
Henley's Collection homes feature, as standard, the stainless-steel double bowl "Spark" sink by Franke, with your choice of 5 Deluxe Phoenix tapware sink mixers.
As standard in Henley's Reserve homes, is the stainless-steel double bowl undermount Franke "Seville" sink with your choice of 5 Phoenix tapware sink mixers.
"I think the spray mixers are a wonderful idea and there are some great "combination" flexible hose and fixed tap on the market, which offer the best of both worlds in one single tap." Nina adds.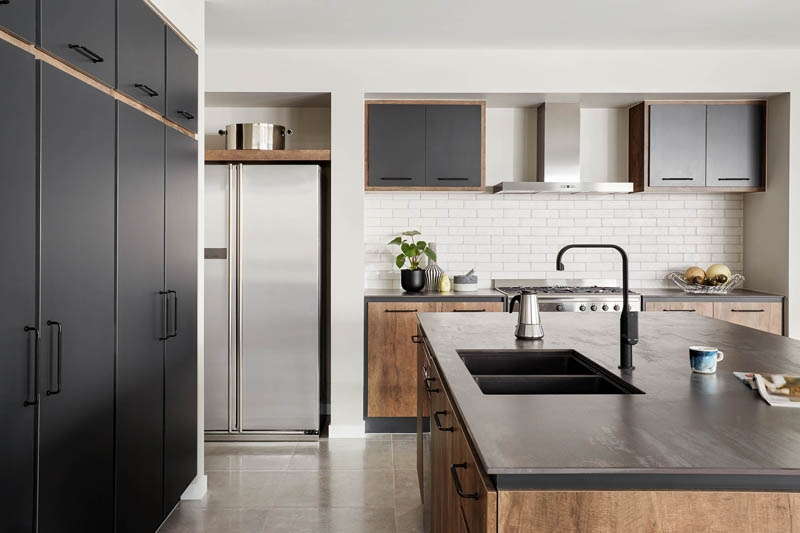 Sinking the ideas
"When choosing a sink, consider not only the look and aesthetics of the sink, but also the practicalities and suitability of the sink to your lifestyle and needs. The humble sink has a big job to do in the family home, but it should be the perfect fit for you and your family in terms of functionality and ergonomics.
My favourite
Nina says, "I am a big fan of the stone composite sinks as they offer a new contemporary look in this type of scheme. You can blend in greys with say concrete look benches, or make your contrasting sink a feature. For example, use a charcoal black sink in a light-coloured benchtop. The looks you can create are endless and can be incredibly unique and individual, giving it your own personality."
"In the Aegean 46 at World of Homes, Truganina, which is styled in a much more classic "Ralph Lauren" scheme, I used the Franke stainless steel Kubus Single bowl undermount sink. The Ashbury 30 features the Franke Anton stainless steel single bowl sink in combination with drainer grooves simply routed into the CS benchtop. This is a great way to make the most of your bench space and emphasise the beautiful marble look bench."