Making a statement with your splashback
There are a bounty of colours and materials on offer for your splashback which add a level of sophistication and focal point to the kitchen.
But how do you decide what to splash on for your splashback?
Heidi Schwieters, Senior Interior Design Consultant at Henley, shares her splashback insights on hot trends and what is catching her eye in 2021.
Tiling it
From the sleek subway tile, the head turning hand chiselled Moroccan tile to eye-catching patterned tile, these choices evoke a range of emotions and reactions from the subtle to the loud and proud.
Heidi says, "With tiles, you can either select a tile which blends in with the cabinetry or a choose a tile which will make the kitchen pop. Think about not only what you takes your fancy today but what has timeless appeal."
"I absolutely love the Kit-kat -shaped mosaic tiles with its modern and unique look. They really add to the kitchen's dramatic style which I adore. And you can also use grout to play on the tile effect and pattern."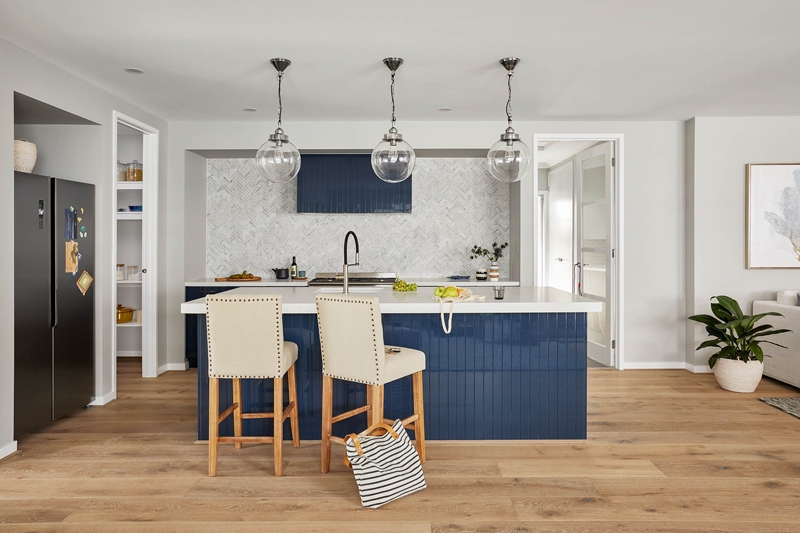 The panache of porcelain
For the ultimate in sophistication, why not consider the impressive extra-large porcelain panel tiles. No need for grout, this splashback choice has an air of opulence to it that is stunning to look at and easy to care for.
"The panels, with its magnificent marble or concrete look, will complement the cabinetry and will sit perfectly with any choices of colours and kitchen styles," Heidi says.
"With this panelling, the splashback becomes one of the standout features of the kitchen so you can pare back on other features to allow it to shine."
The real deal
Another splashback material hot on trend is solid stone. With dozens of choices on offer, this is obviously an extravagant option for your kitchen.
"We have many clients have the Caesarstone™ benchtop match the splash back, creating this dazzling symmetry which is polished and refined.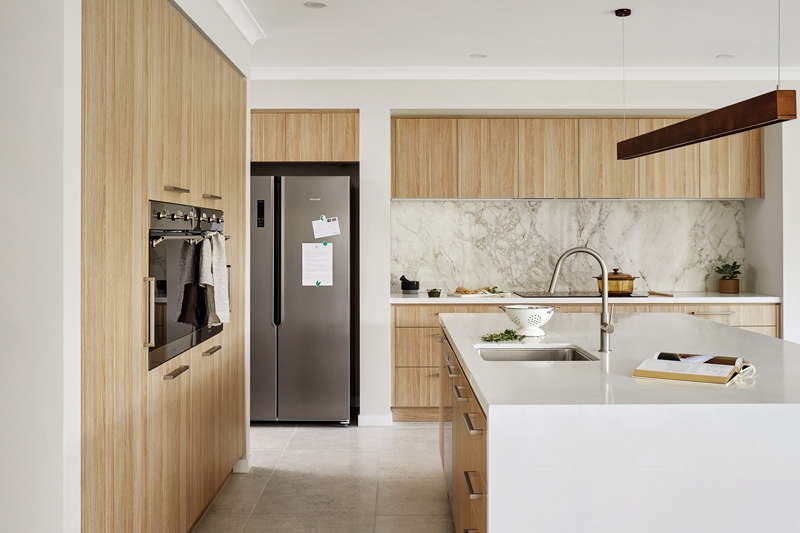 Going glass
Glass selections as a splashback eliminate grout which is a huge bonus for the cleaning aspect. With glass, you can be as bold or subtle as you wish, like tiles using this to show your personality or use the colouring to be the backdrop to other showstoppers in the kitchen.
"At Henley Design, our current favourite Glass splashbacks are Grey Pebble and Grey Reflection. Both are beautiful and subtle grey beige colours. These two lend themselves beautifully to the grey family as well as fit effortlessly into the warmer colour palette. With Glass splashbacks we love to find colours that complement the scheme, enabling us to focus and draw the eye to our hero pieces such as the Caesarstone™ benchtops and Laminex cabinetry." Heidi adds.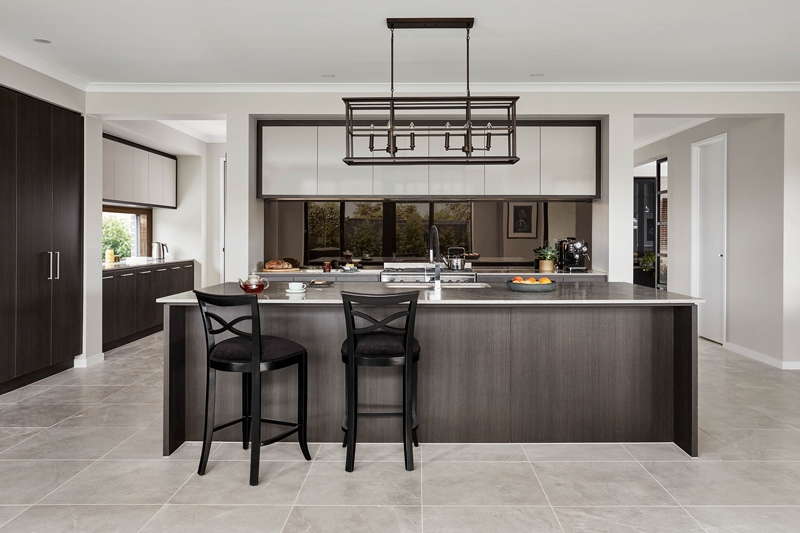 The wonder of a window splashback
"Window splashbacks are available on Henley designs such as the Emperor, which is on display at St Claire in Wollert, or the Montessa as seen World of Homes Berwick. You can also opt for a window splashback on a number of Henley designs. This simple, yet stunning choice in splashback will allow the natural light to seep through the house, and bring the outdoors in.
"Being able to look at to your outdoor area, with lots of greenery while you cook is such a simple delight that you won't take for granted." Heidi added.
Which splashback do you love the most?