ANZAC Day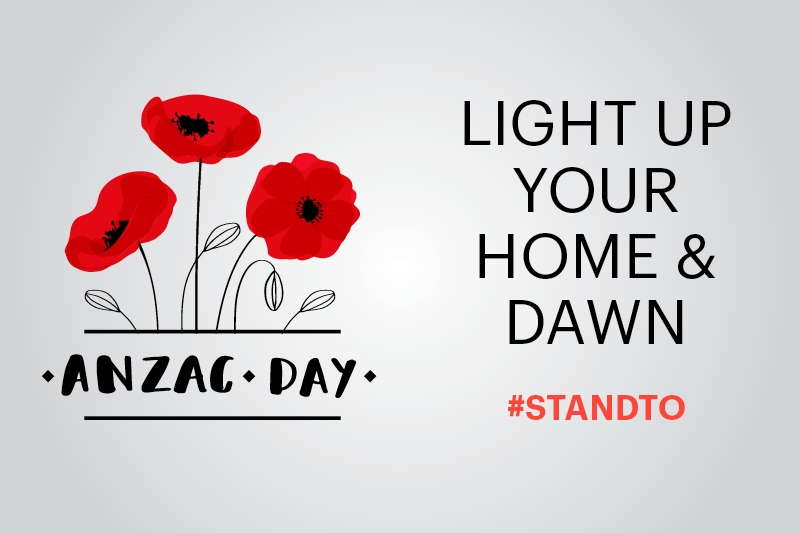 This year, ANZAC Day will look different. There will be no ANZAC marches or traditional dawn services. The RSL has been overwhelmed by the positive suggestions from the public on the alternative ways to commemorate ANZAC Day since the announcement that many of traditional ANZAC Day services would be cancelled to help stop the spread of COVID-19.
And so, the Light Up the Dawn Campaign nationwide was born.
At 6am on Saturday, 25th April, this ANZAC Day, the RSL is asking all Australians to walk outside, and stand in their front yard, driveway, or on their balcony and observe a minute of silence in respect of our service personnel and veterans – past and present. Australians are encouraged to take a candle, a torch or phone with them, to help light up the dawn and to celebrate that ANZAC Spirit.
It is a simple, yet powerful way to Remember.
RSL Victoria is asking Victorians to take a photograph of themselves while they commemorate and share it on social media using the hashtag #STANDTO.
Stand To, in Australian Defence Force terms, is a state of readiness, assumed by the ground troops at dawn and dusk during wartime.
It will be a poignant and emotional moment. With all Australians experiencing such challenging and isolating times, the ANZAC Spirit unites the country, especially during the 75th anniversary of the end of WWII.
To our Henley families, think about setting that alarm for 5:55am, encourage your kids to participate and light up your home and the dawn to remember them this ANZAC Day.
Lest We Forget.