How to decorate a nursery
ISO 2020 was full of twists and turns, with a lot of time spent at home. For some, it also presented another silver lining, being part of a mini baby boom in 2021 – Generation C!
With a newborn pending, one of the top priorities is to set up the perfect nursery. Whether you are first time parents, adding to the tribe or gained a much-loved surprise, a new baby needs a perfectly tranquil oasis to call home.
Henley Design Manager and mum of two, Vicki Gillingham, talks us through nursery trends and must-haves that tick all the boxes for mum, dad and bub.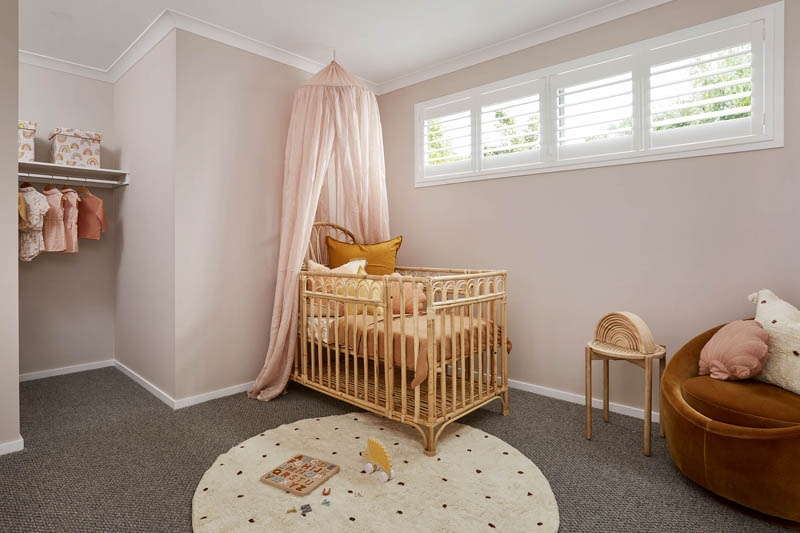 Colour me this
According to Vicki, with serenity and calmness high on the objectives list, consider keeping the colours light and neutral.
"While there may be a temptation (if you know the gender of your baby) to go with the pinks for a girl and blues for a boy, selecting white, creams and very pale hues are also a great palette to keep the room feeling airy and light," she said.
"With a neutral foundation, you may like to add some gentle tones such as light greys or lattes, keeping that relaxed and softer feel to the room. You might also like to add earthy colours such as mustard or burnt orange to create a real cosy feel within the space. I highly recommend bold colours to be allocated to the playroom in another area of the house!"
Let there be (natural) light
To make the nursery feel welcoming and soothing, consider dialling up the natural light by having sheer curtains or blinds, complemented with block outs which are ideal for daytime naps.
"Natural light sifting through the room is such an inviting experience to the senses – for both parents and baby."
"Try and avoid bold colours and heavy fabrics in curtains and use soft ceiling lights which you can adjust their setting. And don't forget having a lamp or two for much-needed light during night-time changes and feeding."
Playing with texture
Soft and natural fibres should be at the forefront in a nursery so mum and baby feel cuddly and comfortable in this space.
"A luscious soft rug on the floor to be enjoyed underfoot and textured blankets over a feeding chair, in gentle subdued hues, adds to the cosy feel of the nursery. Look out for natural fibres such as organic cotton and super soft cushions.
"Textured wallpaper which might also be a lovely touch in neutral or earthy tones but might need to be updated as baby gets older! Consider instead adding some wall art that exudes a sense of calmness and composure." Vicki adds.
Fit it out with furniture
To create a gentle and calm ambiance, keep the nursery decluttered so it does not overstimulate bub. Consider a book nook boasting picture story books and stuffed toys, as well as a change table with ample storage and open baskets for toys, clothes and nappies.
"Set up the cot or bassinet away from the window to avoid draughts, with a lamp for softer light, when you need to change nappies," Vicki adds.
"Don't forget creating a mum or dad corner, featuring a comfortable chair for feeding or cuddling. Consider adding a footstool so you can put up your feet as well as a jug of water, and even a snack (as you may find yourself spending a lot of time there)."
"It's all those small of touches which amplify the nursery to create an inviting space that soothes and relaxes."