Have your say!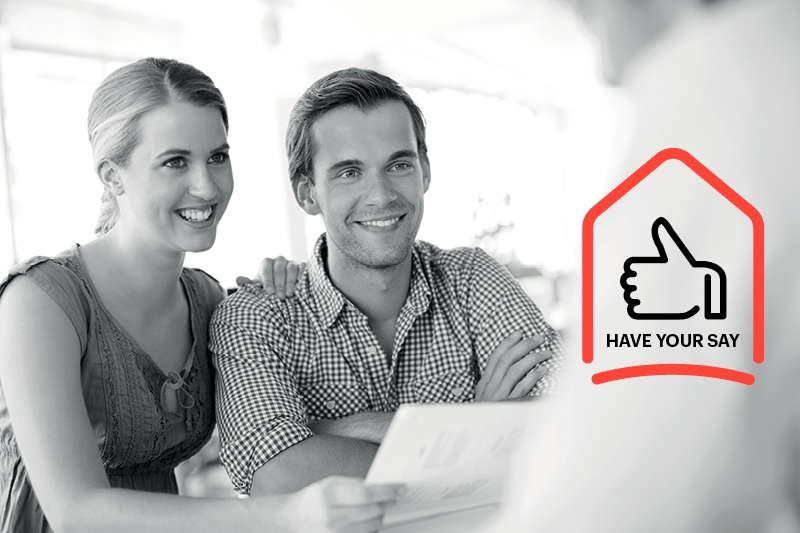 At Henley, our philosophy is all about you!
Have your say about your experience building with us, and as a thank you, you will receive a $100 Coles Myer eVoucher.
The simple steps are outlined below
Go to productreview.com.au and create an account. If you already have an account, simply login.


Have your say by writing and submitting a review, positive or negative. You'll need your Developer Approval (DA) Number, or Building Approval Permit Number.


Within 48 hours, you will receive a confirmation email from Product Review. Forward this email, along with your Henley job number, full name and best contact number to haveyoursay@henley.com.au. You will then receive a $100 Coles Myer eVoucher from Henley.
We appreciate you having your say about your experience with Henley, and are always looking for ways we can improve.
---
Have your say - Terms and Conditions
1. Standard Terms
1.1 Information on how to enter and claim your voucher forms part of these Terms and Conditions.
1.2 By entering the 'Have your say' promotion ("Promotion"), you are agreeing to these Terms and Conditions.
1.3 The "Promoter" is Henley Arch Pty Ltd as trustee for the Henley Arch Unit Trust (ACN 007 316 930) of 395 Ferntree Gully Road Mount Waverley Vic 3149.
2. Who is eligible?
2.1 All clients who have signed a contract with the Promoter after 1st January 2016 to build a home and have completed their final payment 'settlement' stage of their build ("entrant"). Employees of the Promoter are prohibited from entering the Promotion.
3. How to enter
3.1 This is a trial promotion commencing on Sunday 1st April 2018 at 12.00 am and ending on Saturday 30th June 2018 at 11.59 pm.
3.2 In order to enter the Promotion, the entrant must: (a) submit a valid review of their opinion/ experience building with Henley to productreview.com.au; and (b) forward the productreview.com.au approval email (you will receive it within 48 hours of submitting your review), along with your Henley job number and your full name, and best contact number to haveyoursay@henley.com.au (c) only enter the Promotion once, as productrreview.com.au will only post one review per job (home address).
3.3 To be eligible to receive your $100 ColesMyer evoucher, the review must be posted on the productreview.com.au website.
3.4 The Promoter will accept all valid reviews (which are posted on productreview.com.au website) by eligible entrants, whether the review is complimentary or critical, as all reviews by entrants during the nominated
promotional period will be eligible.
3.5 The Promoter, their agents, affiliates or representatives will not be liable for any late, lost or misdirected entries.
3.6 Incomplete, incorrect or incomprehensible job number and contact details will, at the sole and absolute discretion of the Promoter, invalidate the entrant's entry into the Promotion.
4. Voucher giveaway
4.1 Each valid review from an eligible entrant will receive a $100 Coles Myer evoucher ("Voucher") with an expiry date as prescribed by the voucher conditions.
4.2 The Voucher cannot be transferred, exchanged or redeemed for cash. Voucher must be taken as offered and cannot be varied by the winner.
5. How to claim
5.1 The eligible entrant will be sent the Voucher by email to the email address that was used by the eligible entrant to provide verification of the approved review, within fourteen (14) days of the entrant sending the verification email.
5.2 The Promoter reserves the right to verify the validity of the entries and to disqualify any entrant who submits an entry that is not in accordance with these terms and conditions of entry, or who has, in the opinion of the Promoter acting reasonably, engaged in conduct in entering the Promotion which is fraudulent, misleading, deceptive or defamatory. The Promoter reserves the right to disqualify an entrant if the Promoter becomes aware that the entrant and/or the entrant's entry is of a type described in this clause.
6. No liability
6.1 If, for any reason, this Promotion is not capable of being conducted as planned, including (without limitation) due to tampering, unauthorized intervention, fraud, technical failures, or any other causes beyond the control of the Promoter, the Promoter reserves the right (in its sole discretion) to disqualify any individual who tampers with the entry process, take any action that may be available, and to cancel, terminate, modify or suspend the Promotion, subject to State Legislation.
6.2 The Promoter reserves the right to suspend, withdraw or cancel the Promotion at any time and without notice.
6.3 The Voucher is equivalent to cash. The Promoter cannot be held responsible for any misuse of the Voucher by someone other than the entrant provided the Promoter has sent the Voucher to the email address provided by the entrant.
7. Privacy
Entry details remain the property of the Promoter, and their related entities. This information is collected for the purpose of conducting and marketing this Promotion (including, but not limited to, determining valid entries and
forwarding Vouchers). The entrant may request access to his or her personal information by writing to the Privacy Officer, Henley Arch Pty Ltd, 395 Ferntree Gully Road Mount Waverley Vic 3149 or privacy@henley.com.au. The entrant may view Henley's privacy policy located at henley.com.au.