Front door favourites
An inviting and elegant front door is a perfect introduction to your family home's character, creating the all-important first impression.
Regardless of the size and style of your home, the front door is the focal point of a home façade or exterior and is what welcomes you and your family home every day.
The front door is a 'transition point' and sets the tone for what might lie inside. But it also is a significant component of the entire front façade so important consideration must be given to how the front door works from the perspective of both the inside and outside of the home.
And at Henley, we take our front doors seriously!
From the timeless classics to the grandest of colours, Henley's National Interior Design Co-ordinator, Michelle Holmes, takes us through front door styles, what makes a beautiful front door and trends for 2021.
The top choices
Corinthian 'Blonde Oak' Pivot Door (AWO 5G and AWOWS 5VG styles) – versatile: this door can be stained or painted to tie in with painted or stained window colours, cladding features or sectional garage doors (including woodgrain-style decowood) . These impressive doors are most popular for double storey designs due to the impressive width and height which is effortlessly handled by the pivot style design.
Stegbar 'Statesman' Aluminium Pivot Door – another impressive, large-scaled pivot entry door. We frequently specify this beautiful front door - finished in black aluminium - to tie seamlessly with black aluminium window frames – this is proving particularly popular given the current trend towards black accents in both interiors and exteriors.
Corinthian 'Madison' – this door style features various configurations of glazing with each door offering a timeless sense of style. This entry door compliments almost any exterior style and is very cost effective.
What makes a beautiful front door?
As the saying goes, 'beauty lies in the eye of the beholder' and this is most certainly true of the entrance to a home.
For what is one relatively small component of the entirety of a home, the front door consists of so many elements of choice and opportunities to create a unique story. Colour, the use of glass, size, the handle and other accessories such as knockers are all important elements.
Firstly, the size and proportions of the door must be considered in relation to the rest of the façade's scale and styling. A large double story home, such as the Henley Montessa 43, requires the scale and presence of a wide and high pivot-style door, like the Stegbar "Statesman AP9G" which we have on display at World of Homes, Wollert.
A smaller, single story home such as the Lexington at Mt Atkinson pairs well with a timber style front door with feature glass inserts. Using a door with glass for a smaller single story home offers both functional and aesthetic benefits. From a practical standpoint, it provides more natural light to the smaller proportioned internal foyer area of a single-story home whilst also offering visual interest and architectural character to the overall façade of the home.
Selecting a timber door offers further choice such as whether to have a painted or stained finish. Again, this taps into the aesthetics of the complete look of the home. For example, a modern façade such as the Palace at our World of Homes, Truganina, features the Corinthian Blonde Oak AWOWS 5VG timber door stained in 'Driftwood'. This stain ties with the timber-look feature 'Cedar Sales' weatherboard cladding in 'mist' and also provides a softer natural 'wood' element to contrast the very structured modern elements of this façade, like the rendered projections.
A more classic and somewhat coastal-style façade such as the Carmelle 28 at World of Homes, Truganina, works well with a painted timber entry door, such as Corinthian Blonde Oak AWO 5G Door which we have painted in Dulux Lexicon Quarter white to compliment the rest of the timber trims of the Eastport façade design.
In contrast to timber entry doors, aluminium is an alternate choice of finish with both practical and aesthetic benefits. Featured on the Valletta 48 at our newest Glen Waverley Display Centre, the Stegbar "Statesman" Pivot aluminium entry door compliments the modern Novello façade and pairs perfectly with black aluminium framed windows which are so 'right now'. The sheer scale of this entry door – more than 1 meter wide, almost 2 and a half meters in height requires the use of a pivot style door. Dressed in impressive black aluminium, this door marks entry into a whole new level of refinement and being aluminium, it boasts a high fire rating and is almost maintenance-free.
Selecting the hardware for your front door – namely the handle - offers an opportunity to consider the aesthetics of the door as well as the functionality.
From knobs to pulls or lever-style handles, the options are endless. At any budget and in any style, there is certainly no limit to choose. From modern, very minimalist door pulls to security handles where the lock function is not a key but a finger-tap of your smart phone, to the ornate, decorative and vintage-style handles reminiscent of centuries ago, choice certainly abounds!
A sophisticated entrance door might include a sleek vertical pull handle in a brushed metal finish for example. Taking the definition of 'sophisticated' to a functional realm, these days, there are a plethora of high-tech security handles for those of a 'tech-inclination'.
The 2021 trendsetter
For example, pillar box red, blush pink, yellow …anything that steps away from the norm.
An unexpected paint colour adds a punch of personality without a lifelong commitment – as the front door colour can easily and quickly be updated simply with another can of paint.
For example, our Aegean 38 at World of Homes, Clyde North, features a striking red door in Dulux Red Box which contrasts against the more classic dark grey and white scheme.
Using the front door space as an opportunity for personalisation – to create a welcoming impression reflective of one's own personality. With the current world pandemic, the focus on our homes being our haven - our safe space but also one that makes us happy - has never been more apparent. At a time when the front door might be the only contact point between us and the outside world, we predict more attention will be focused on the front door as an opportunity to 'visually' welcome visitors, even if we are not able to invite them into our homes as we once did. Visitors can be given a hint of the personality of the inside home through the use of accessories such as wreaths, unique or decorative door knockers or handles as well as pots and greenery.
When considering ways to customise elements of a home without breaking the bank, a custom-made door knob, lever or pull is a relatively inexpensive way of setting your front door apart from the rest of the street scape. Examples include hand-forged, sculptural door pulls, upcycling or re-purposing some object that has personal meaning or ties with the theme of the home, for example a brass seahorse used as a door pull on a beach house. This can be a unique and memorable way to mark the entry in to your 'castle' and can offer a glimpse into the individuality of the homeowner.
Another way of personalising an entry door is by installing a knocker. From the classic, refined English townhouse style to something more nostalgic, it is an element that can be installed by any homeowner within an afternoon but certainly provides character. Perhaps re-installing one from grandma's house or something in a similar style to a well-loved childhood home. Such a simple element can add that touch of sentimental meaning – something we have all been reflecting on in these Pandemic times - and also provides a memorable conversation starter with a first-time visitor to your home!


World of Homes, Truganina
Lexington 28 – Corinthian Blonde Oak (painted Mt Buller) with Surfmist Aluminium windows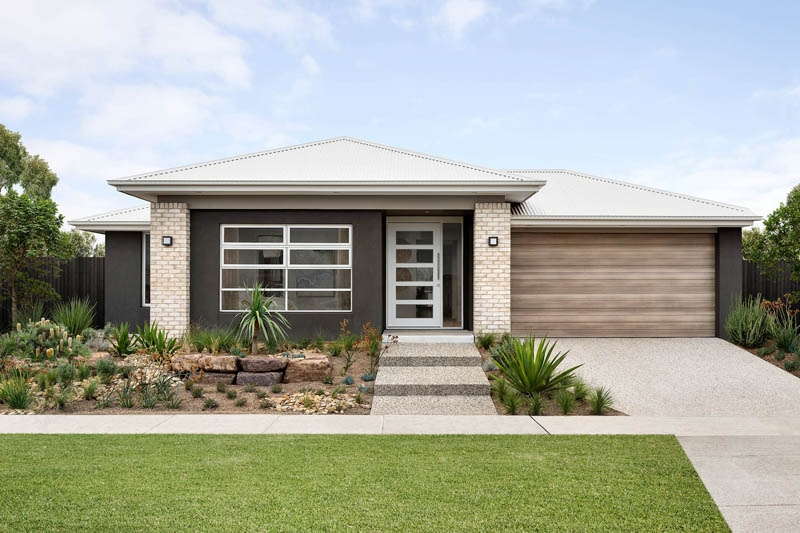 Carmelle 28 – Corinthian Blonde Oak AWO 5G front door (painted Dulux Lexicon ¼) with White Aluminium windows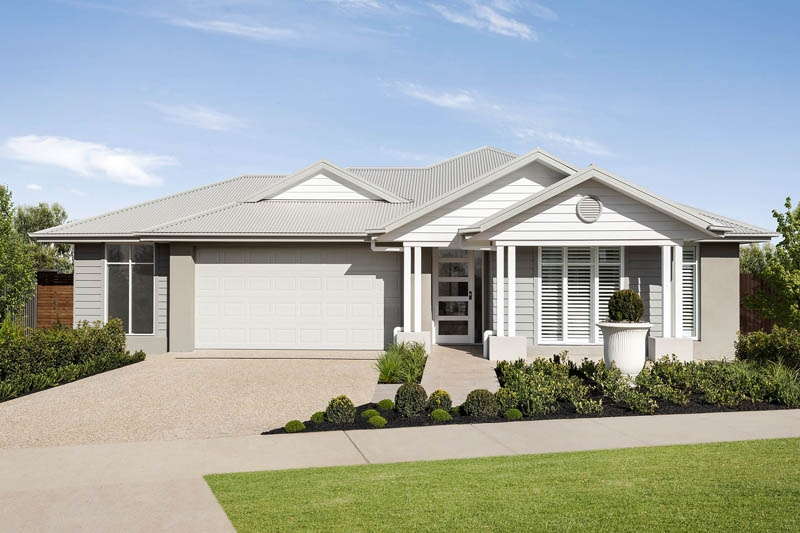 Palace 38 – Corinthian Blonde Oak AWOWS 5VG (stained Driftwood) with Cedar Sales weatherboard in 'mist'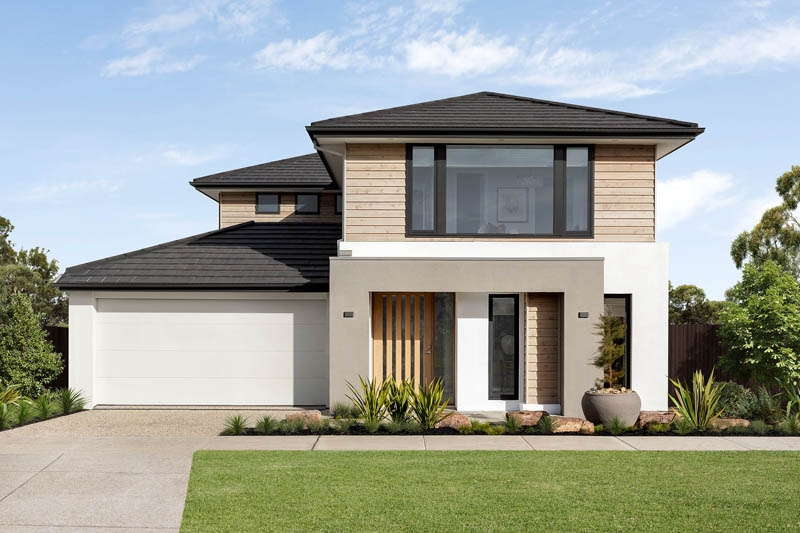 World of Homes, Wollert
Montessa 43 – Stegbar Statesman (in black Aluminium) with Black Aluminium windows and garage door in 'Night Sky'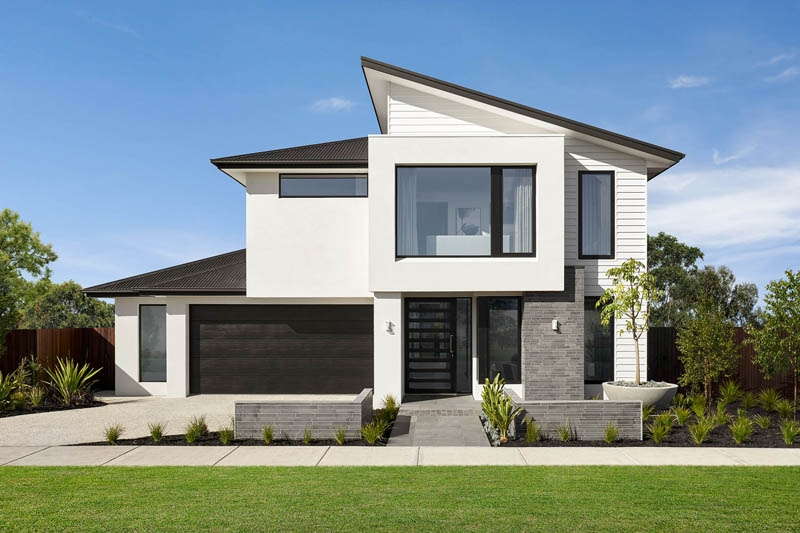 Glen Waverley Display Centre
Valletta 48– Stegbar Statesman (in black Aluminium)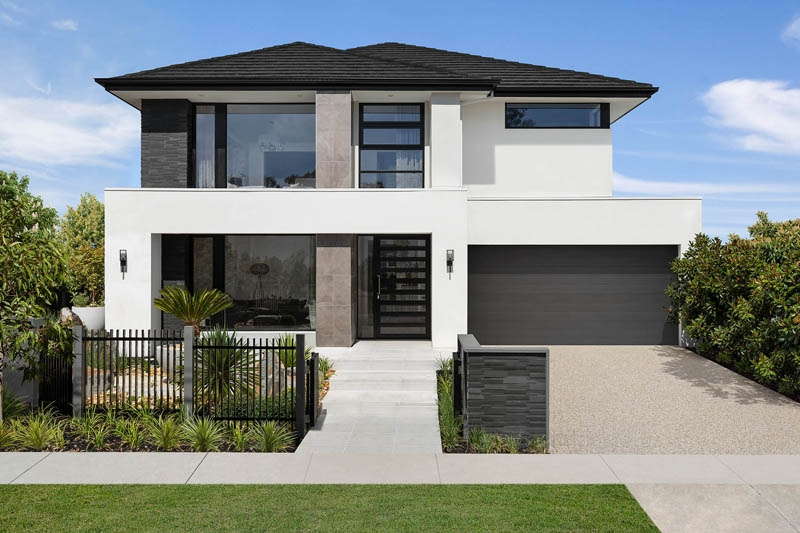 World of Homes, Clyde North
Aegean 38A - Corinthian Blonde Oak AWO 2 (in Dulux Red Box)