Effortless ways to bring the outside indoors
With our natural affinity for the outdoors, from the sky and water to the terrain and trees, anything to do with the outdoors generates a sense of calmness and freshness. These elements can easily be emulated in our homes using a few simple techniques and tricks.
Planning it out with plants
Cetti Germano, Colour Design and Electrical Consultant, Henley Design Showroom says "Whether they're faux or potted, plants create a sense of airiness and coolness in any room of the house." From the on-trend hanging basket in the bathroom, the large faux banana palm in the living room to oversized branches or natives in the kitchen, plants complement a range of natural hues and textures, and can brighten any space.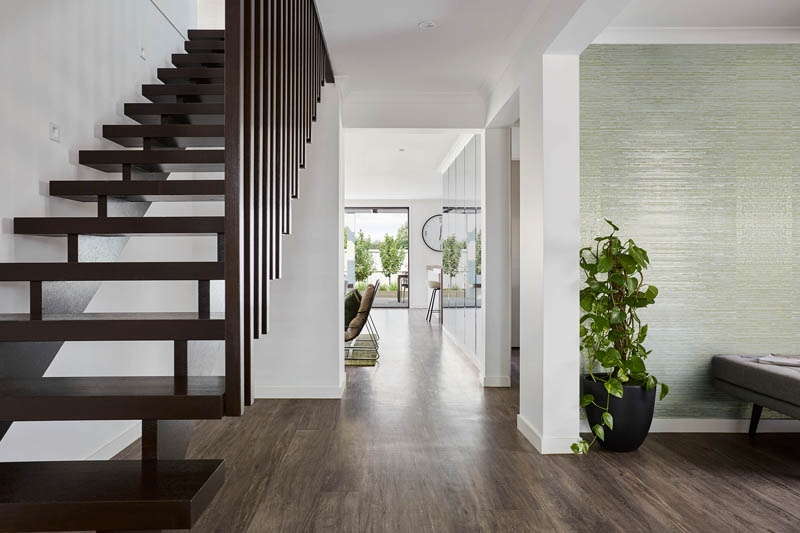 Get inspired with the fibres
From Rattan, wicker to jute, you can use these natural fibres and materials in an array of decors and soft furnishings. "Baskets, cushions and rugs in these natural materials will create instant ambiance and fit perfectly with your relaxed, zen theme." Cetti adds.
"Furniture pieces and home décor are trending more towards organic shapes and textures. We are seeing more rounded corners, grounded furniture and minimalist style - but with each piece having a purpose. With using such pieces, the eye can be drawn to view the outside elements more easily."
Coloured by nature
"You can inject a suite of colours direct from Mother Nature to transform your space into an outdoor oasis. Various shades of green, mixed with earthy tones such as browns and greys are perfect for dining table centre pieces or for the grand island bench. Ocean or sky blues can be peppered in living or bedroom spaces with cushions and pillows. Neutral tones such as beiges, whites and lattes can be applied on couches, bedding and rugs to give the space a breath of freshness and lightness. Even a peppering of yellow and gold hues, like the sun, can be an ideal option in bathrooms and powder rooms."
Try timber or laminate floors
Timber and laminate floors create a sense of warmth and cosiness in any living space and perfect in bringing the outdoors in. "Wonderful to walk on and with a timeless look, timber and laminate floors are a match made in heaven for any style or décor trend. We are seeing a lot of Australian timbers such as Tasmanian Oak, Spotted Gum and Blackbutt in the living areas."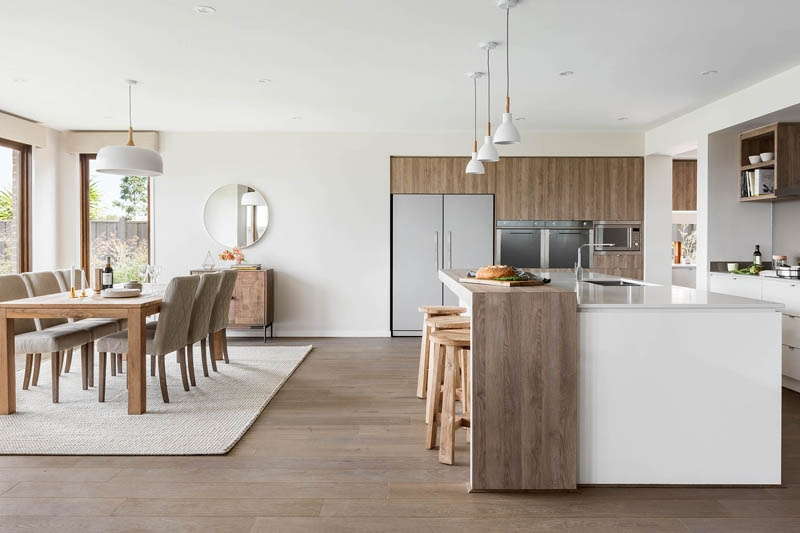 It's the small things
Hot on trend is having smaller pieces from nature to decorate your home. Think sea shells and wood or jars filled with beach rocks – especially if they are from a recent getaway with family or friends.
"Plants and flowers can also draw on the finishes of furniture pieces such as timber and home décor pieces including marble coasters, trays, stone vases, timber frames. In the kitchen, incorporating fruits such as lemons and limes in bowls, garlic and herbs hanging from kitchen handles creates a fresh and not to mention fragrant setting."
Take a deep breath of fresh air
Cetti says, "Open up the windows and let the fresh air come inside. And with an outdoor alfresco area, you can crank open the doors and enjoy the full experience of the outdoors flowing into the inside of your home."
"If possible, every room should have natural light coming through. It's important to feel more connected to the outdoors by ways of letting natural light in as this fosters an authentic lifestyle.
"You can also entice your senses with outdoor cues. Diffusers with natural oils as they are air purifying, naturally made and scented candles. This again is a reference to nature as it brings a sense of calm to the space."
Elevating the inside of your home with outdoor elements gives your home a level of panache and style that will make you feel you are on holiday all year round! Happy decorating!
"For any home design tip – interior or exterior, look no further than the experienced team at Henley Design. They will walk you through all the latest trends and handpick looks and styles to complement your own tastes."