Bringing your unique touch to the Christmas table setting
Part of the fun and colour of Christmas lunch and dinner is creating a beautiful table setting to complement your festive theme. Usually, tinsel and leftover baubles from the tree are the order of the day – still beautifully festive, but Henley wants you to get even more creative this season!
Our Henley Design team, have created three unique and head-turning Christmas table settings, guaranteed to woo your guests and not break the budget.
Go Modern Australia
Featuring a bounty of green foliage, peppered with gumnuts and fragrant rosemary, the Modern Australia table sets the scene for a wonderful evening of informal dining with loved ones around the table enjoying great food.
Our senior Colour Consultant Micaela said, "I was inspired by Australian textures and natural colours for my Christmas setting. I used a lot of on-trend textures such as matte black and grey concrete finishes. Then pairing it with all native Australian foliage just brings it to life."
"I wanted to create a timeless look that can be used for many Christmas celebrations to come. Rather than using traditional Christmas décor, I was able to bring the Christmas greens and reds through the native plants. Us Aussies love a feasting spread when gathering together with family and friends and I wanted to capture that moment with my table setting
"The use of raw timber serving boards and black cutlery adds that masculine vibe, then balanced out with the foliage for a feminine touch. It is the perfect balance of feminine meets masculine. Layering is important to achieve this relaxed, natural look. This can be done by simply purchasing some taller serving boards and stacking cheese on top of each other.
"Layering fruit and mixed nuts over the cheese spread is a great trick to fill the gaps on your platter and add fullness." Michaela added.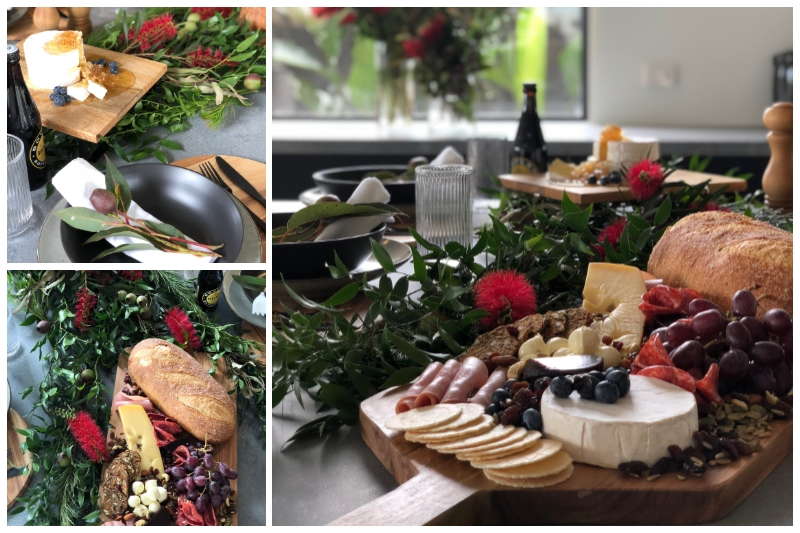 Go tropical with Palm Springs
This Palm Springs table created by Abbie in Henley Design is perfect for alfresco dining, drinking or nibbling. Inspired by what is on trend in the interiors/lifestyle world was drawn from mid-century modern architecture and bohemian interiors.
For both, Palm Springs seemed to be the perfect umbrella which had a lot of similarities to the Australian Christmas period. Burning hot summer days set in desolate back drops with lush green foliage that turn into balmy evenings.
"To achieve this look, it's important to create a base. You want a mixture of colours. This table setting
uses a myriad of artificial and real foliage which provides multiple shades of green (this also helps to
keep costs down) and a giant foraged dried palm leaf gives a lovely raw feel," Abbie adds.
"Different heights are important as it creates a visual feast for the eyes. Make sure the tallest item
is something of interest as this will become the focal point and that the smaller items relate to this.
"Here, the different heights of the fruits, adds the fun, laidback outdoor atmosphere. The aim is to make sure one side is not heavier than the other but not the same items on each side. This is achieved through a combination of colour, height and size."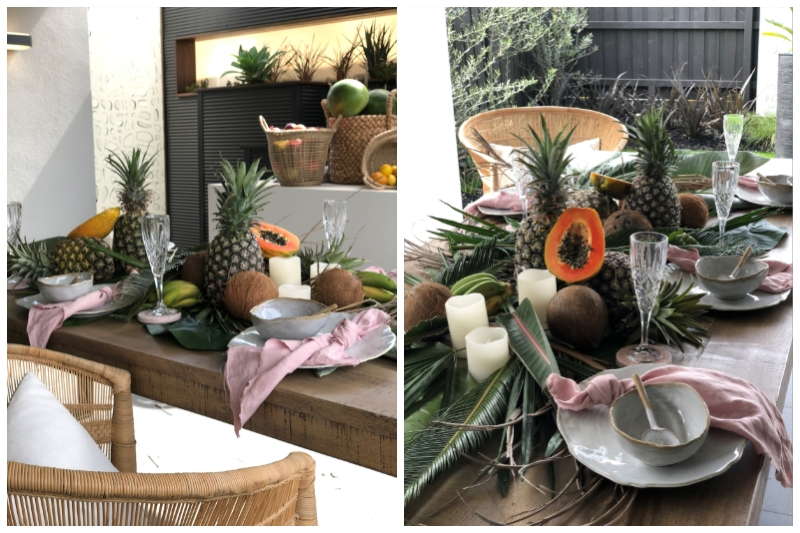 Create the Luxe factor
For a more formal and opulent option, the Luxe Noir Christmas Table is a perfect choice, especially for the smaller, cosy spaces.
Starting with a luxurious washed linen tablecloth (ensure you measure the table before purchasing the tablecloth! Aim to have it larger than the table to achieve this luxe look) in a dark charcoal grey/black or navy to set the tone for the more opulent dining experience.
Cassandra, who put this look together said, "Layering black on black plates on top of the dark tablecloth is a perfect back drop for the colourful Christmas food, and your family and friends will feel like they are fine dining this Christmas."
"The hero is of this table is of course the centrepiece, a beautifully arranged bouquet featuring Phalaenopsis Orchids, Classic Roses, Olive Tree Foliage, Hellebores with Allium and Kumquats made for the perfect pop of colour and class to the dark table setting. Ensure that the arrangement has high and low foliage as well as propping it up on top of a stand to make a statement."
"Utilising a more traditional table setting style with polished silver cutlery and crystal glassware works perfectly and adds a classic contrast to this on-trend black-on-black table setting."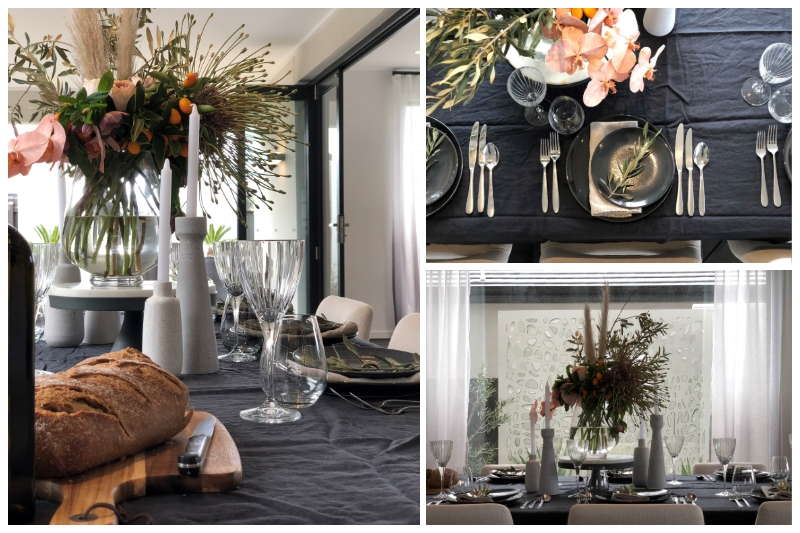 Share your Christmas style
Henley would love to see some of your creative Christmas tabletop styling ideas, share your picture with us at #Henleychristmas – we'd love to see your creativity in action!
Happy holidays!