Exclusive to Henley Customers
With over 20 years of experience, Waterstone Finance is an exclusive mortgage brokerage service available only to Henley customers.
Our mortgage brokers will evaluate your existing financial situation and provide you with a comprehensive and personalised home loan solution. We understand the complexity of construction finance and know what to look for when comparing various lenders and products, so you can be confident in the recommendations we provide.
Waterstone Finance brokers are located in our display centres and offer a preliminary qualification process on site. This will allow you to quickly and easily understand your borrowing capacity and options available to build your dream home.
Waterstone Finance offers you the following benefits:
More Value - Free, no obligation service: An initial conversation is all it takes to discuss your financial situation. Free, comprehensive and personalised, Waterstone Finance operates out of Henley display centres for your convenience.

More Choice - Easy to compare: We compare hundreds of home loans from a vast number of banks and lenders to help you find the right home loan and finance solution. Whether you're a first home buyer, upgrading your home, need to refinance your mortgage or you're buying an investment property, our specialists can help.

More Experience - Expert advice: Our fully accredited brokers have extensive experience in putting together new construction home loans. You'll be guided through the entire process to ensure you have peace of mind that you've found the right home, and the right financial solution for you.
More Support - Quick approval: We deal with the banks and lenders on your behalf, saving you time, effort and stress. Why do all the hard work when we can do it for you?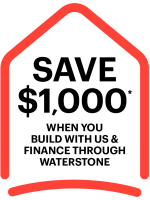 Would you like to know how your finances measure up? Use our handy finance calculators to determine a comparative guide of your borrowing power and loan repayments.