Stamping your style with a grand island bench
As the name suggests, a grand island bench is just that, grand!
A grand island bench is so much more than a go-to spot for a quick bite, deadline delivery or coffee catch up. It is the front-running trend setter that transforms a kitchen to a sea of sophistication and functionality.
Members of the Design Showroom team have joined forces to unpack the grand island bench, its suite of profiles and how it is now defined as the centrepiece of not only your kitchen, but also your family home.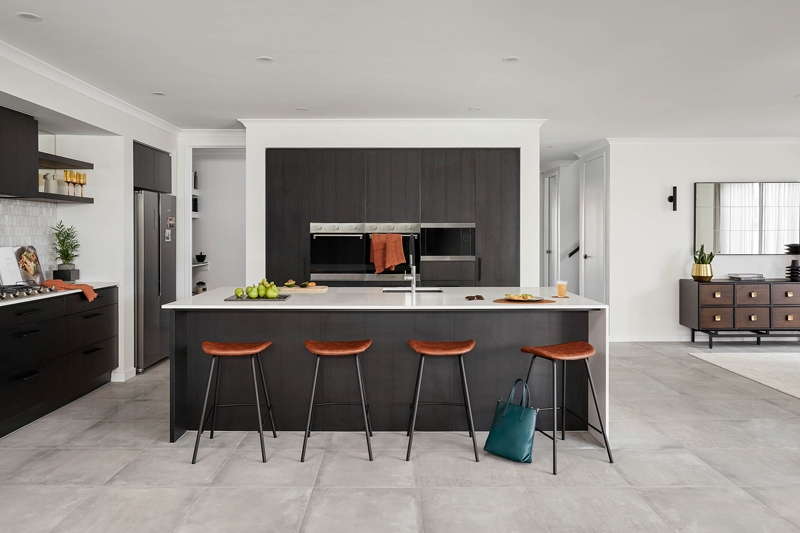 Topping it off with style
Before deciding on the bench profile for your kitchen, we recommend that you firstly think about the bench top material.
There are an array of more accessible and affordable materials to select from, such as the very popular and versatile Caesarstone™ which is standard to our Collection and Reserve homes.
"At Henley, there is a choice of 49 stunning Caesarstone™ colours to select from - 14 of which are standard, in not only the kitchen, but also the ensuite, bathroom and powder rooms. Now that is some serious decision-making to be made!
"With a Caesarstone™ benchtop on your grand island bench, you already know that you have something really special. Currently, the most popular Caesarstone™ benchtop is Snow – a hue that is timeless elegance elevated.
"Laminex® bench tops come in hundreds of colour choices to harmonise many different styles and trends. They offer look-alike wood grains, marbles, stones, and granites, as well as a large selection of flat colours to choose from. Hot on trend is Polar White perfect for the very popular Hampton, Shaker style kitchens whilst the timber grain colours are striking, stylish and authentic."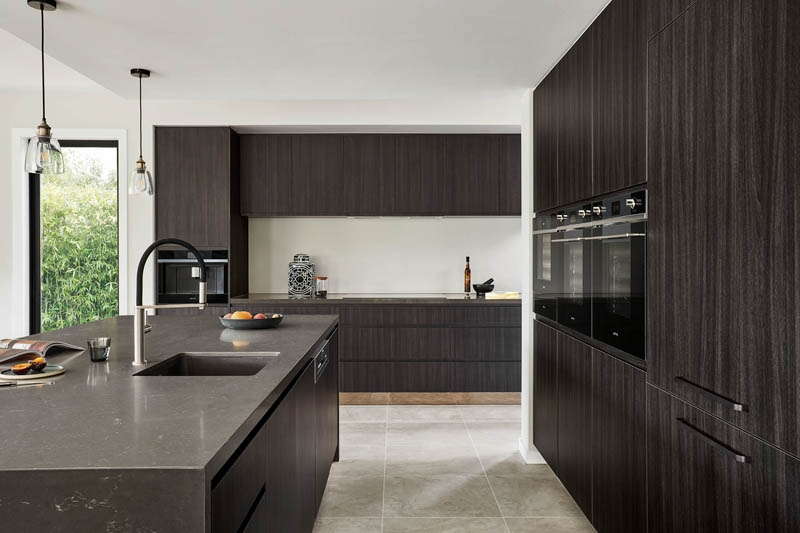 Grand island bench top
The rectangular grand island bench top is by far the most popular bench profile and is also the main feature in all Henley kitchens. Sleek and sophisticated, the grand island is the epicenter for the family – gathering around it for meals and conversations.
"The grand island bench is the most practical home for the trusty sink where washing up can be done while overseeing the kids doing their homework, having their snacks or working on their latest school project. This profile usually sees a Caesarstone™ benchtop in either a 20mm or 40mm thick profile and accompanied by laminate end panels to blend seamlessly with the island bench cabinetry or make a feature in a contrasting colour."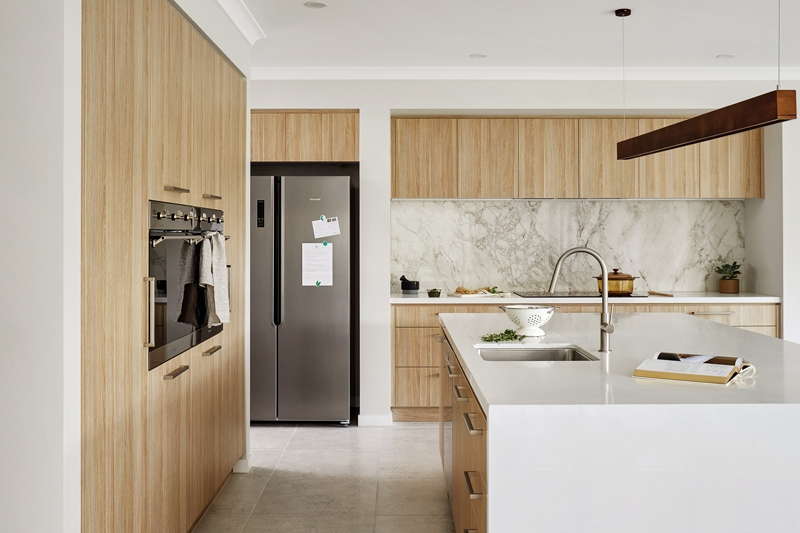 Classy cascades
"As the name suggests, the waterfall edge to an island bench is when the benchtop surface cascades down on one or both sides of the benchtop to meet the floor. Seamless and streamlined, the waterfall is a sophisticated way to celebrate the benchtop surface while making a beautiful luxe stand out feature in the heart of your home."
The Valletta on display at our Sunbury Display Centre, is a perfect example of a kitchen featuring a waterfall edge. Elegance is amplified with this bench profile, creating an incomparable impact.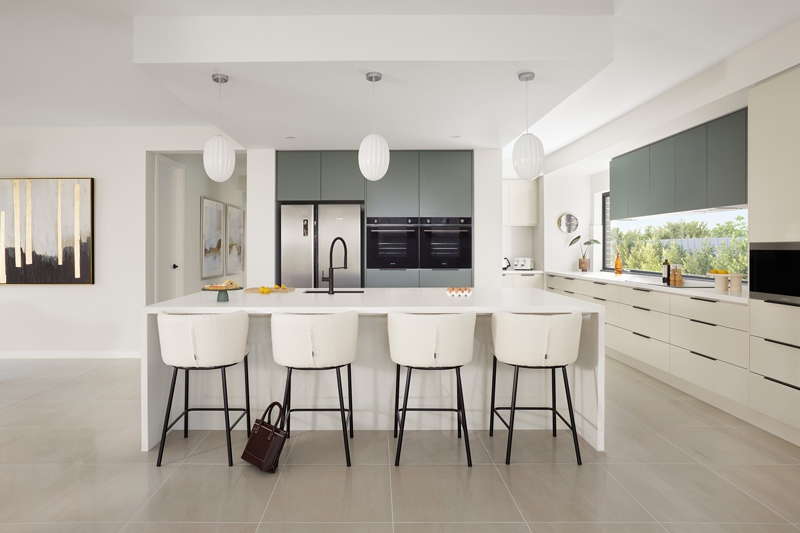 Over the moon with the overhang
"Another attractive and popular profile is a benchtop featuring an overhang, which can easily be used as an eating bar or food preparation counter. Dimensions of the overhang vary, with Henley recommending at least 450mm. The overhang is also ideal for larger breakfast stools, creating another convenient and comfortable eating area."
The Carmelle located at our World of Homes Berwick, showcases a beautiful island bench with overhang, creating a perfect area for four stools to be tucked neatly into the overhang bench and not compromising on further space in the kitchen.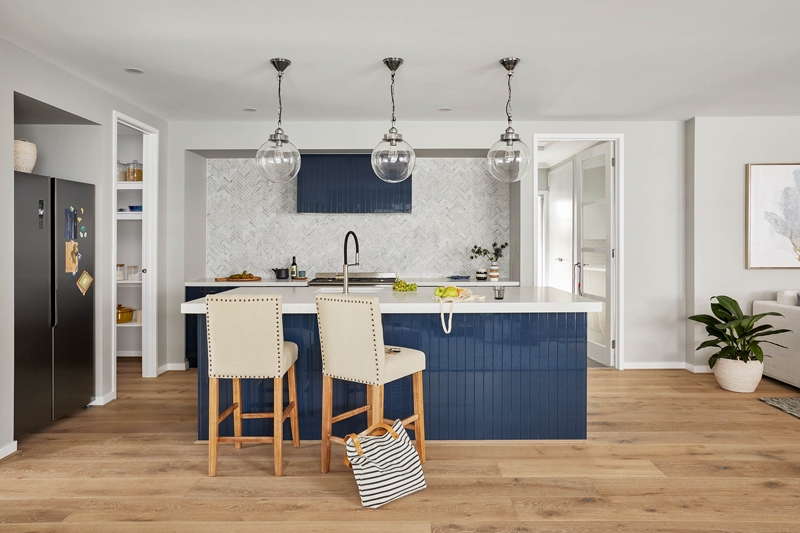 What's for breaky?
A breakfast bar included to the island bench adds a very convenient bonus surface which cannot only be used for breaky but also as a less formal spot to work, relax or entertain. The breakfast bar, using a Laminex® feature upstand, can be used to fast-track mealtimes as you don't have to leave the kitchen to get hungry family members satisfied!
The Vienna located a tour World of Homes, Upper Point Cook, offers an elevated breakfast bar, perfect for three oversized stools. The breakfast bar contrasts well with the Caesarstone™ island bench and perfectly complements the colour palette of the main kitchen cabinetry. You will be hard pressed to leave the space anytime of the day.