Henley and Villawood launch 'Buy a Brick' campaign
A group of young supporters will don their own tradie gear to assist Henley and Villawood's official launch of the 2022 Good Friday Appeal (GFA) 'Buy a Brick' campaign.
All Victorians will be able to contribute towards the campaign, which is linked to the Good Friday Appeal Charity Home Auction, by 'buying a brick' starting from as little as $5. All money raised will go to The Royal Children's Hospital Good Friday Appeal.
With approximately 12,000 Austral bricks required to build the charity home, this is a unique opportunity for more people to get involved and support the Good Friday Appeal. You will be able to 'buy' a brick at Henley display centres and Villawood sales offices across Victoria, at the charity home in Sunbury, when completed in early 2022 and open for inspection, as well as online at www.gfacharityhouse.com.au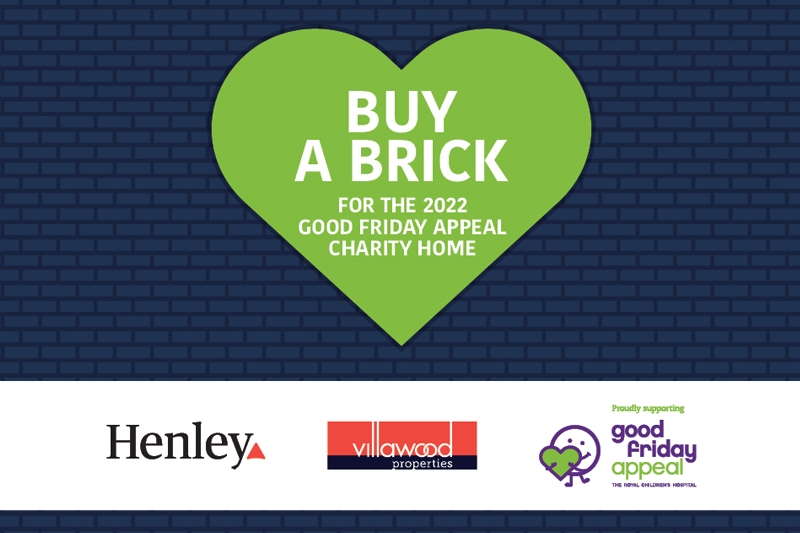 The Royal Children's Hospital GFA Charity Home Auction has become one of Victoria's most loved auction events and one of the biggest contributors to the Appeal each year. This year marks Henley's 30th anniversary of involvement with the GFA, building the 43rd charity home for the 2022 no-reserve auction.
To help launch 'Buy A Brick', two brothers, Levi 9, and Charlie 7, will be there supporting their dad, Henley Site Supervisor, Billy Ferguson, now 37, who spent more than 16 years as a patient at the Royal Children's Hospital.
For Billy, who was born without a right leg, the Royal Children's Hospital was pivotal in creating a positive environment for him and his family, despite the challenges.
"With three surgeries from the age of two, as well as multiple prosthesis replacements, the Royal Children's Hospital was with me all the way. I clearly remember feeling excited going in and changing my prosthesis. Their support and care meant the world to me, and I was able to carry on with my life with sport and school because of that. I am forever grateful."
Behind the landmark build are more than 100 volunteer tradies and suppliers who have donated their labour and resources to create a stunning family home with every cent going to The Royal Children's Hospital Good Friday Appeal.
According to Mark Glenn, Henley Victorian Building Manager, the 'Buy a Brick' campaign is a wonderful opportunity to extend on the charity home's iconic no-reserve auction on Good Friday, by inviting more people to get involved in the Good Friday Appeal.
"By introducing the 'Buy a Brick' campaign, we are hoping to put the icing on the cake, donation-wise, for The Royal Children's Hospital, on top of the proceeds raised from the charity home auction, which continues to edge towards the one million mark," Mr Glenn said.
"The 'Buy a Brick' initiative is a valuable addition to the contribution the GFA Charity Home Auction makes to the Royal Children's Hospital," Villawood Properties Chief Executive Officer Alan Miller said.
"In the same way bricks are the building blocks of our industry, the bricks in this campaign will work as building blocks for The Royal Children's Hospital to continue the world-class care it provides our sick kids," Mr Miller said.
Rebecca Cowan, Executive Director, Good Friday Appeal says, "The Charity House has been a popular feature of the Good Friday Appeal since 1982 and we are very excited about the new 'Buy a Brick' campaign for 2022. This wonderful initiative will make it possible for more people to get involved and help raise funds to support patients and staff at The Royal Children's Hospital. We thank everyone involved for their ongoing support."
THE STAR OF THE SHOW
Going under the hammer in the no reserve auction in 2022 is the stunning Vogue 34 by Henley, which is a 35.53 square, 4-bedroom home, built on a 448 sqm block donated by Villawood and is located at their boutique Redstone community in Sunbury.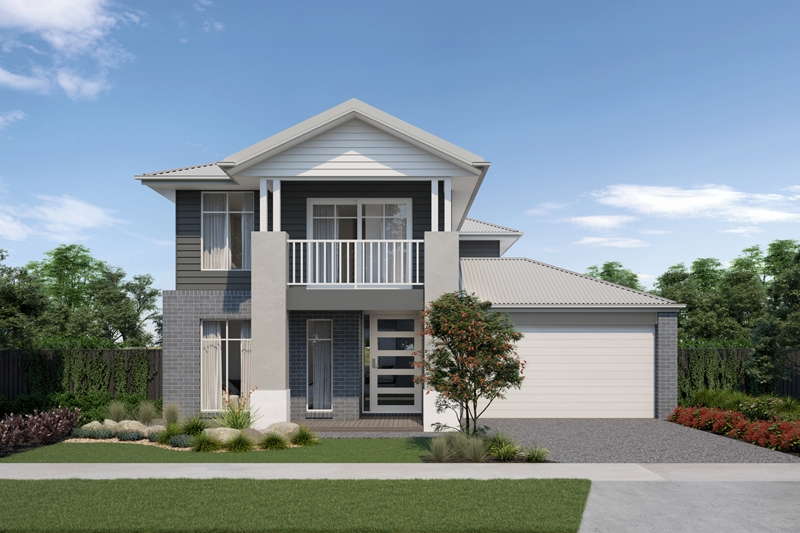 All furniture, soft furnishing and decorative pieces inside the Vogue 34 on auction day will be donated by Guest Furniture and included as part of the auction price.
The beautifully landscaped Vogue 34 also boasts a gourmet, multi-functional kitchen featuring a 40mm Caesarstone™ benchtop with waterfall edge, Italian-made SMEG™ stainless steel extra-large appliances including microwave and free-standing dishwasher, textured tile splashback with feature window and Innotech soft close drawers and doors for the kitchen.
ABOUT THE COMMUNITY: REDSTONE
The 2022 GFA Charity House Auction is being held at Villawood's flagship Redstone community in Sunbury. Redstone, with stunning outlooks to Melbourne and the Macedon Ranges, will be home to 2500 families. It will feature a magnificent residents' resort, Club Redstone, a 45,000 sqm town centre, multiple housing precincts, schools, childcare, community amenities, 110 hectares of open space including along the ruggedly beautiful Jacksons Creek and a 16-hectare hilltop park.
Club Redstone will serve as the heart and soul of Redstone, with pools, a childcare centre, parent lounge, fully-equipped gym, café, function room, office space and barbecue area, outdoor recreational space and multi-purpose courts.