Top 5 Henley Design Selections
When it comes to selecting your interior and exterior features at Henley Design online, you are simply spoilt for choice for brands and styles. Tastes, preferences and budgets vary for each family, and that is why Henley Design has a multitude of choices that are presented by the Henley Design team with care and consideration during your virtual consultation.
In 2020, there has been some selection standouts at Henley Design, transforming your new home vision to life. Vicki Gillingham, Henley Design Manager, talks us through the top five and what Victorian families are loving.
Kitchen Benchtops and cabinetry
Keeping up with frantic weekday dinners and endless snack creation for teenagers does not mean your kitchen lacks any sass. Quite the opposite. Families are ramping up their kitchens looks with sleek cabinetry - whether it is keeping it with the classics or going all out with some colour, as well as investing in a bench top that not only looks amazing, but can also keep up with the family's demands.
Vicki says, "For a more coastal feel for your home, which is a very popular choice this year, consider Polar White Natural cabinetry, complemented with Ocean Foam or Pure White Caesarstone™ benchtops in 40mm."
"For Henley's Collection and Reserve homes, there are 17 stunning Caesarstone™ colours to choose from for the benchtops and more than 250 colours of laminate cabinetry - all as standard.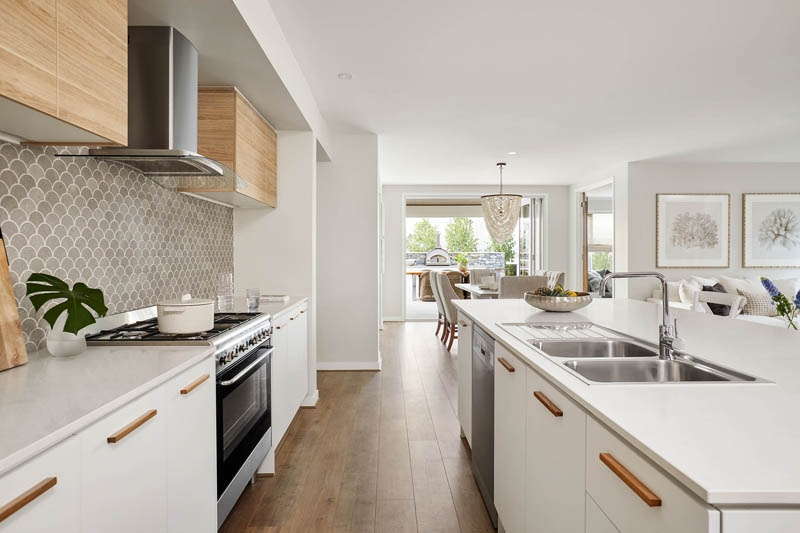 Pick your brick
The humble brick certainly does not take a back seat during the exterior selection process.
"Choosing the perfect brick can transform your façade from the ordinary to the extraordinary. While it may be difficult to visualise what a completed house will look like by viewing a single brick, we have many images and tools to help represent which bricks work better and how they work with other façade materials." Vicki says.
"Regardless of which house design you choose, there are just as many facades to look at, depending on your colour and style preference. If you are thinking industrial for your façade, consider Austral's San Selmo Reclaimed Original brick to perfect the look, or if more of a luxe feel speaks to your preferred façade, consider their Mornington brick."
"For Essence, Collection and Reserve Homes, there is a choice of four standard brick colours to select from and an abundance of alternate options to create your unique look."
Home automation
"As we spend more time at home for work, rest and play, home automation and data provisions are must have hot ticket items and growing in demand this year. Families are looking at voice activation technology throughout the home to make life easier while also making sure they have ample data points for the family's technology and internet needs." Vicki says.
"At Henley, we work closely with a range of suppliers and trade partners to create affordable packages and bundles to ensure a Henley home is built for tomorrow."
Get floored with the choices
Where your feet land every day at home is an important decision to make as flooring is one of the largest decorative pieces you have. That is why, choosing the ideal flooring for each room in your family home is so important.
Whether it is getting cosy with carpet for the bedrooms, with the ever-popular Barlow Rustic Taupe or Amelei Salerno, selecting the tiles for all the wet areas – Stella Moon Lappato and White Max Hexagon are hot on trend, to falling in love with laminate flooring for the living, kitchen and dining areas – Brooklyn Ridgewood which has a lovely Hamptons style vibe to it.
"Timber flooring is luxurious and exudes a wonderful warmth and opulence. Timber floor is as an investment for your home with a timeless style. Lighter timber hues are setting the scene, being coupled by luscious, monotone rugs. Popular choices this year include Formentera and Bora Bora from our Timber Top ranges." Vicki says.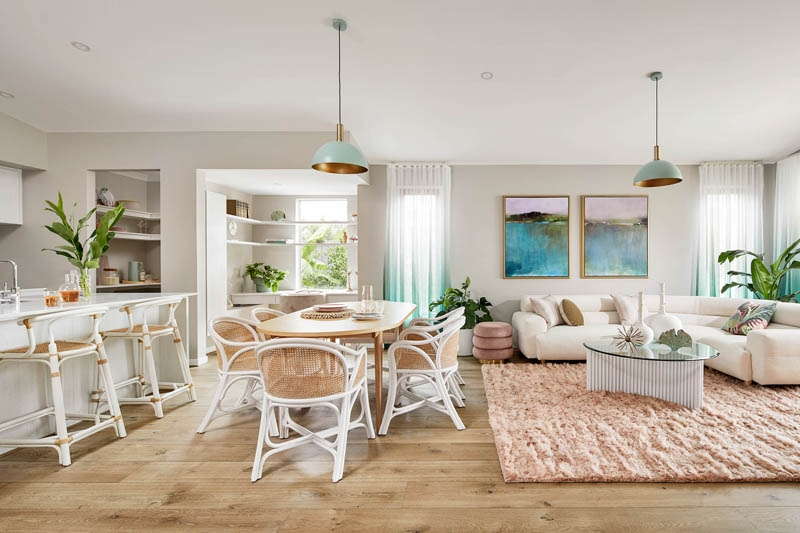 The personal touches with accessories
Vicki adds, "A great way to add your personal flair and is very popular at Henley Design, are all the accessories on offer. From tapware, cabinetry handles to bathroom accessories, colour and textures can be swapped to suit the style and preferences you have."
"We are seeing a lot of black and brushed nickel tapware come through in kitchen and laundry selections taking over from the ever-popular chrome, while matte finishes are a top choice for cabinetry handles throughout the home."
"As standard we offer over 30 designer cabinetry handles in multiple styles and size options across all our home ranges, while our Collection and Reserve homes have the choice of five deluxe Kitchen sink mixer taps from Phoenix Tapware."