How to make the most of your outdoor area over summer!
While integrated alfresco zones have year-round appeal, especially if you have heaters installed, spring and summer really are the best months to entertain across your indoor and outdoor areas.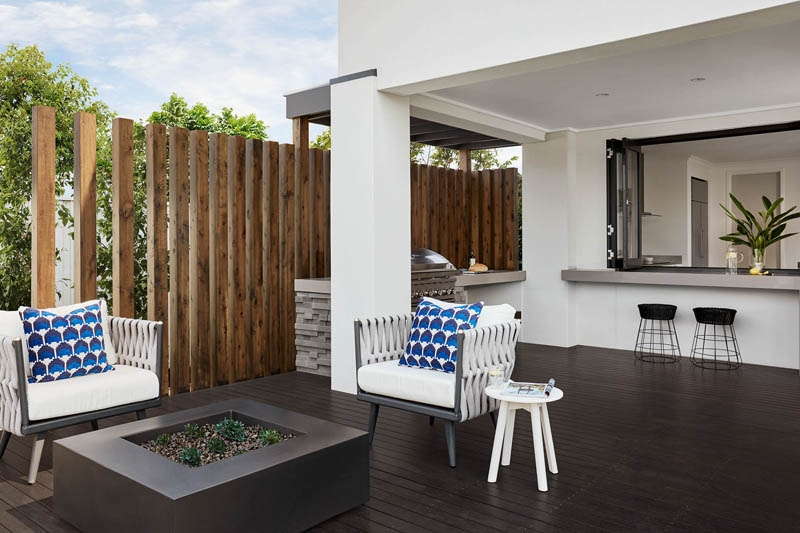 If you haven't used your outdoor area in months, take some time to give the space a thorough clean and assess what the space needs for a freshen up. Add some colourful seat cushions, and light cotton throw rugs for when the sun goes down and you've designed yourself the perfect night in!
Add appeal with atmospheric lighting
Along with candles, low-voltage lighting or strands of fairy lights can breathe a new season of life into your outdoor area. Keep them up year-round, they add an instant sense of festivity.
Same style, inside out
The style of your home furniture should be replicated outdoors so that your living spaces flow seamlessly onto your alfresco area. If you're rustic indoors, keep it consistent outdoors to avoid a bulky look.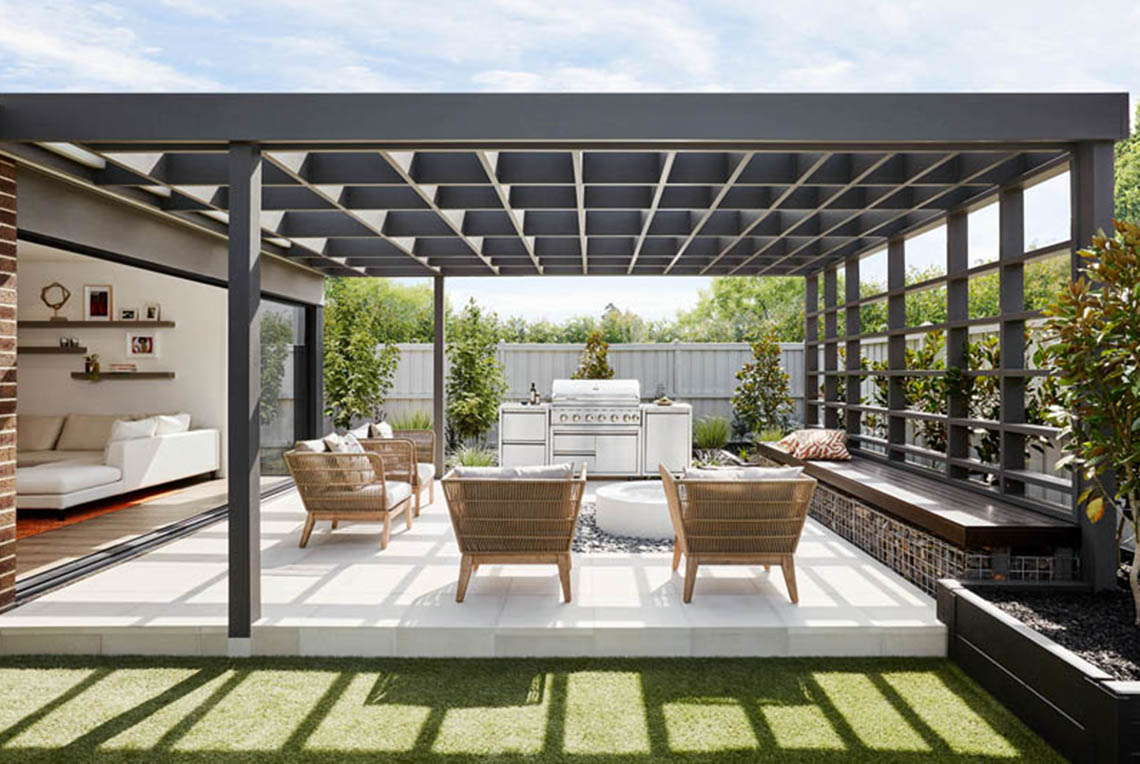 Shade, protection, privacy and plants
While an alfresco area provides shade and protection, clever planting and even vertical gardens or creepers can help keep the area cool and reduce sun glare. Plants and trees in large pots can also be used to provide added privacy.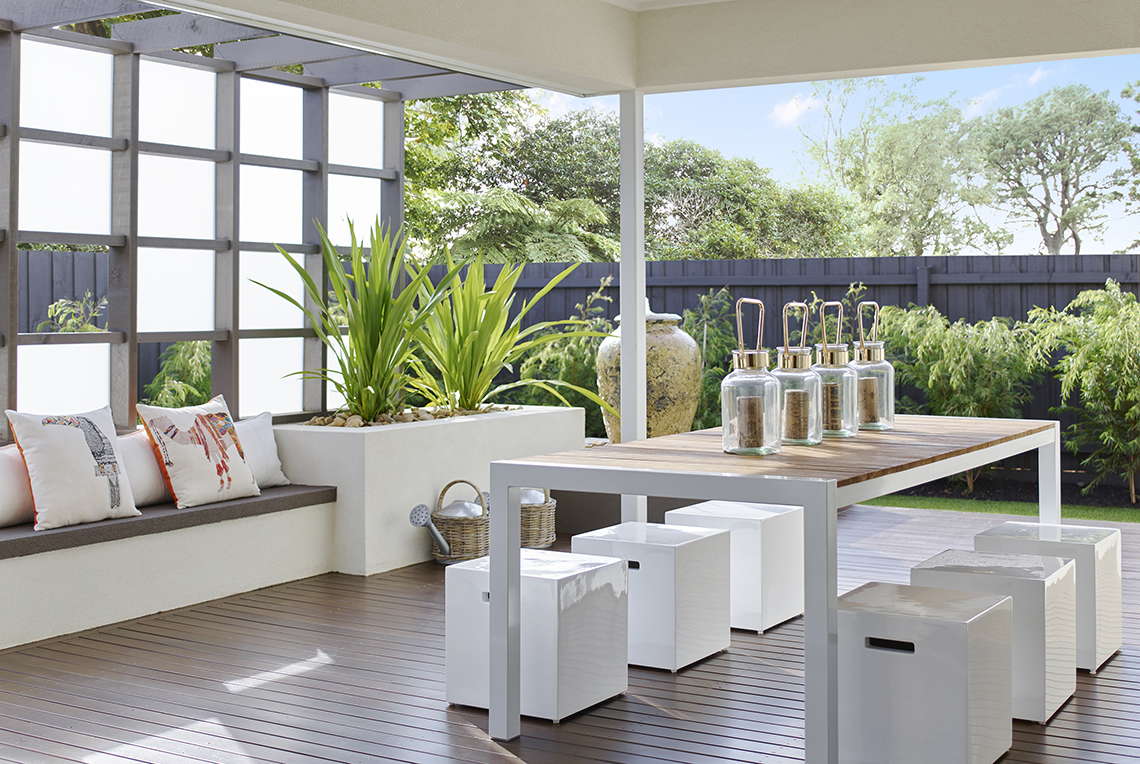 Add accessories
Just like the inside of your home, there is plenty of potential to add some beautiful designer touches in this space. Just because it's outdoors, don't overlook the opportunity to add some decorative pieces…you can always store them indoors when you're not entertaining to keep thbem in good condition. From pillows to vases, knick-knacks, statues and candles – the options are just as extensive as they are for your interior.
Our Senior Interior Designer, Emma Taylor says "A bar cart is a perfect accessory for outdoor entertaining. Load it up with some dishes and condiments, flatware and drinkware. Everyone can help themselves and enjoy the outdoors!"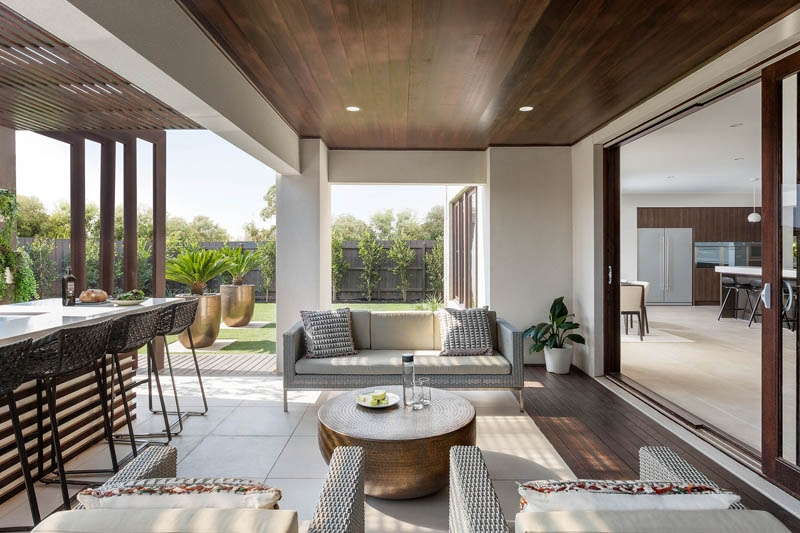 Multiple entertaining zones for an engaging experience
Create an experience when you entertain, starting with drinks at the kitchen island bench, dinner in the dining room and dessert outdoors… or maybe drinks outside, dinner inside and coffee around the island bench. The beauty is you decide! Our new Banksia 31 design features a gorgeous Servery bench, providing direct serving access straight from the kitchen to the alfresco.
Step into our huge range of alfresco areas on display to experience the variety of options and layouts available across our designs.
What will you be doing in your alfresco area in 2018?