How to host a stylish Christmas this year
How to host a stylish Christmas this year
Turn on the Christmas carols and prepare for the big day amongst family and friends with these fun and festive Christmas ideas, from the décor to the drinks.
The Christmas countdown is on and whether you're a "decorate on 1 December" family, or "leave it till the last minute" clan, we have some simple style tips that will bring festive cheer to your home.
Personalise your season's greetings
The first thing to do is identify what type of interior decorator you are – do you love your bold colours? Are you a minimalist? Do you like to keep it traditional or prefer it rustic, weaving in elements of nature? Staying true to the theme that reflects the rest of your style will give a sophisticated and seamless finish.
Add festive elements here, there and everywhere!
The fun part – look for little festive accents to add in each area of your home. If you're looking to try something different this year, some of our favourite ideas include:
Christmas chandeliers, made by turning your regular Christmas wreath parallel to the floor and suspending with ribbon from the ceiling. Works well over your island bench, dining table or even over a hall table.
Make your regular fruit bowls look more festive by adding baubles, and decorative fruit pierced with pretty patterns (such as oranges with cloves) along with some festive greenery (think holly, ivy or even rosemary).
Use existing vases and fill them with strings of white Christmas lights or coloured baubles.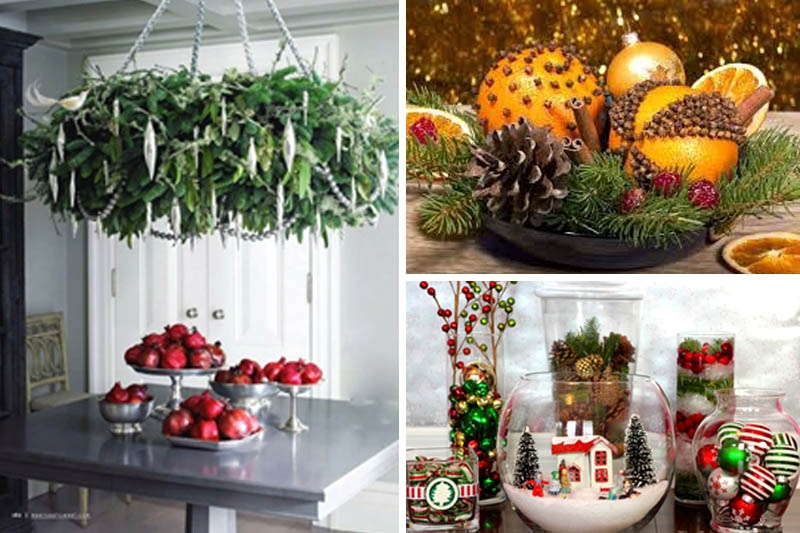 (Image credit: Left Image Homesthetics, Top Right Image Inhabitat, Bottom Left Image The Inspired Home)
Cook up a seasonal storm
With a Henley Kitchen, you know you're well equipped to handle the Christmas cook-up. Think about using your grand island bench not just for prep work but also for laying out a self-serve feast. This will help reduce the number of things on the dining table during the meal – keeping it more functional and stylish. Hide any preparation mess or overflow easily in the butler's pantry and simply enjoy the celebrations.
To get all of your hot and cold food served at the right temperature, it helps to work backwards. Start with your ideal serving time and note down key times that things need to go into your oven, so everything is ready around the same time, making serving seamless and the food delicious! Kitchen goddess Donna Hay recommends taking stock of your pantry staples to ensure you've got plenty of everything, ordering online and having it delivered. With plenty of space in the Butler's Pantry, you've got room to stock up!
Serve up style with a trending Christmas table
Once you have your theme, the final step is translating it to your dining table for your Christmas lunch or dinner, making sure your centerpiece, napkins and tablecloth all work together. We're loving this article from Jen Bishop at Interiors Addict on the latest Pinterest inspiration for Christmas tables, which features greenery and neutral décor, modern blue and white china and some DIY décor ideas. If you want to personalise your table setting, create some fun 2018 fortune messages and simply wrap them up in each guest's napkin. Add Jamie Oliver's festive punch for some colour and flavor, or have some fun creating your own punch to reflect your table theme!
What's your favourite tip for a trendy Christmas?