Going once, going twice... SOLD!
The 2017 Good Friday Appeal Charity Home Auction has sold!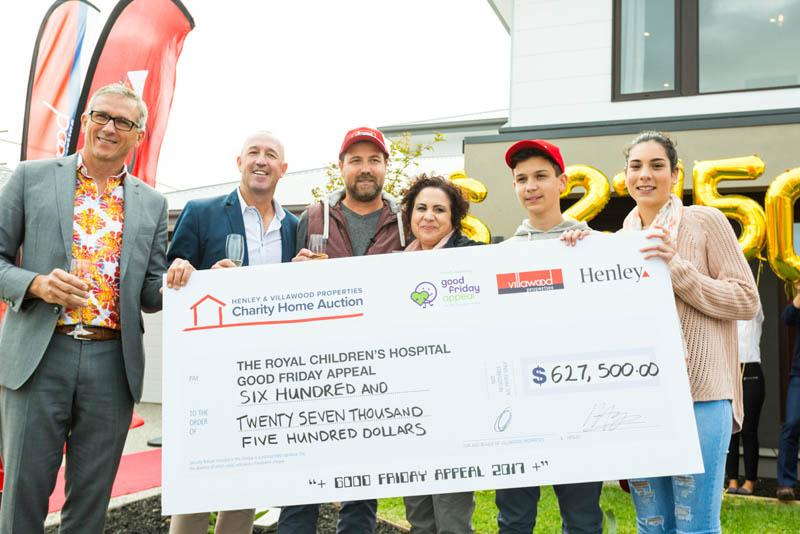 In what has grown to become the one of the biggest days in the our philanthropy calendar, yet another Henley charity home has gone under the hammer over the weekend and we are delighted to announce the 2017 Henley and Villawood Good Friday Appeal Charity House sold for an incredible $627,500!
The auction day has become an event in its own right. This year catered to little ones and big kids alike from face painting and petting zoo through to a jumping castle and Mt Duneed wine tasting which proved to be a real hit! There was live entertainment from Michael Stangel (as seen on The Voice), The Mik Maks, Celtic Illusion, Aerosport Allstarts and Geelong Youth Choir as well as guest appearances from the AFL Geelong Cats players and Channel Seven's Sam Mac.
This all culminated with the highly anticipated Good Friday Appeal Charity Home Auction at 2pm that was broadcast live on Channel Seven. There were nine keen bidders competing to win the luxuriously appointed home in front of a 700 strong crowd of excited onlookers. Bidding kicked off at $450k but in the end, a local family won the keys to the brand new Palace 38.
Construction of the house took five months and with over 400 trades and suppliers involved who generously donated their time, resources and supplies to this wonderful cause. Henley's Managing Director Peter Hayes said "This house is a beautiful reflection of the hard work of our passionate trades and suppliers who have rallied together to support such a ​​fantastic cause".
The Henley and Villawood Good Friday Appeal Charity House is one of Melbourne's most loved auction events, and one of the biggest contributors to the Appeal each year. The Good Friday Appeal has long had a special place in the hearts of our Founding Directors. In fact, it's Henley's 24th year of building and donating houses to this very cause. The sale of the 2017 house brings Henley's total donations to over $13.8 million from 38 houses built and donated. Peter Hayes went on to say "Our thoughts have never changed. ''If we improve the life of just one child all our efforts have achieved the goal'.
We thank each and every tradesperson and supplier who worked on the house and look forward to 2018 where we celebrate the project's 25th anniversary!