A wave of new inspiration at Henley Design
The Henley Design Showroom, the home for the latest exterior and interior inspiration, and where you can customise your new home style, in style, is now online. With a symphony of online ideas to stimulate the senses including product recommendations, must-have now options, trends and videos, the Henley Design online experience is still an intimate affair, with the dedicated team of interior design specialists available for any enquiry.
And one of the most clicked on areas so far, is the suite of online mood boards, meticulously curated by the Henley Design team for you to peruse and explore. Mood boards, are just that, set to activate the tone and ambience you want to create in your family home. They are not only beautiful to look at but are there to give you the additional verve on what style direction you want to head into. Vicki Gillingham, Henley Design Manager, goes though the six style palettes for both internal and external inspiration, how each stands out and how each may be a perfect fit for your family home.
Six sensational themes, endless possibilities
With six distinct mood boards, beautifully curated, the Henley Design team has narrowed down the palettes and choices which are not only the most popular but have the timeless elegance Victorian families look out for in their home.
"We wanted to encapsulate an array of textures, palettes and styles into six distinct areas – Luxe, Industrial, Architectural, Loft, Coastal and Retreat. Each has its own personality and flair, without being too overstated or understated. We have strived for a wonderful equilibrium in all the themes, that is not only stunning to view now but has the longevity to thrive in changing seasons and tastes." Vicki says.
Loving the Luxe
With Luxe, we wanted to celebrate bold textures with soft accents of light creams and whites. These create tonal variation and residential luxury. Opulant by name and nature, luxe is peppered with a mid-tone neutral palette comprising of rich textures, bold feature detailing and heavily patterned brickwork.
Vicki says, "For the Luxe internal mood board, we handpicked products such as Beige Royal Paint, Pale Earth Glass Splashback and Lyneham Smokey Beige Carpet to create a scheme that oozed elegance and unrivalled luxury. The timber top flooring is in Sardinia. For the Luxe External mood board, Mornington by Austral is the brick of choice, Colorbond Dune Roof and windows with a Surfmist garage door."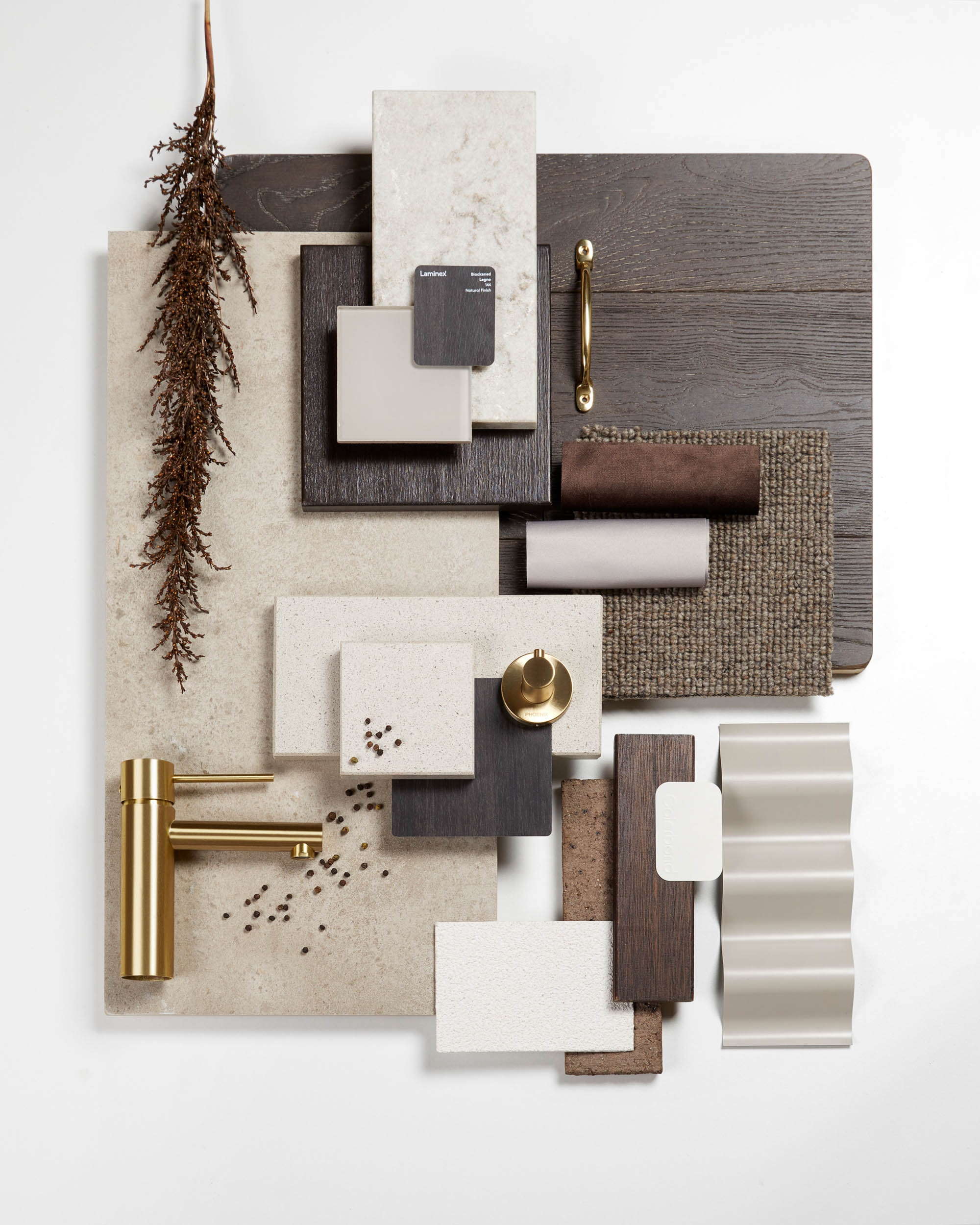 Intuitive Industrial
Industrial pays homage from old factories and industrial spaces – the result being architectural design meets modern finishes. The style incorporates raw materials to give the space an unfinished feel.
"Henley Design has embraced Industrial with open arms and with its mood board it has selected Laminex's Terril Natural for the Kitchen base cabinetry, Uptown Charcoal Lappato tiles by Surfaces by Hynes for the floor and wall tile, and finished with Dulux's Brume ¼ Strength for the wall paint. The mood board for externals brings black windows fronts and centre, with a Monument render and Austral's San Selmo Reclaimed Original Brick." Vicki says.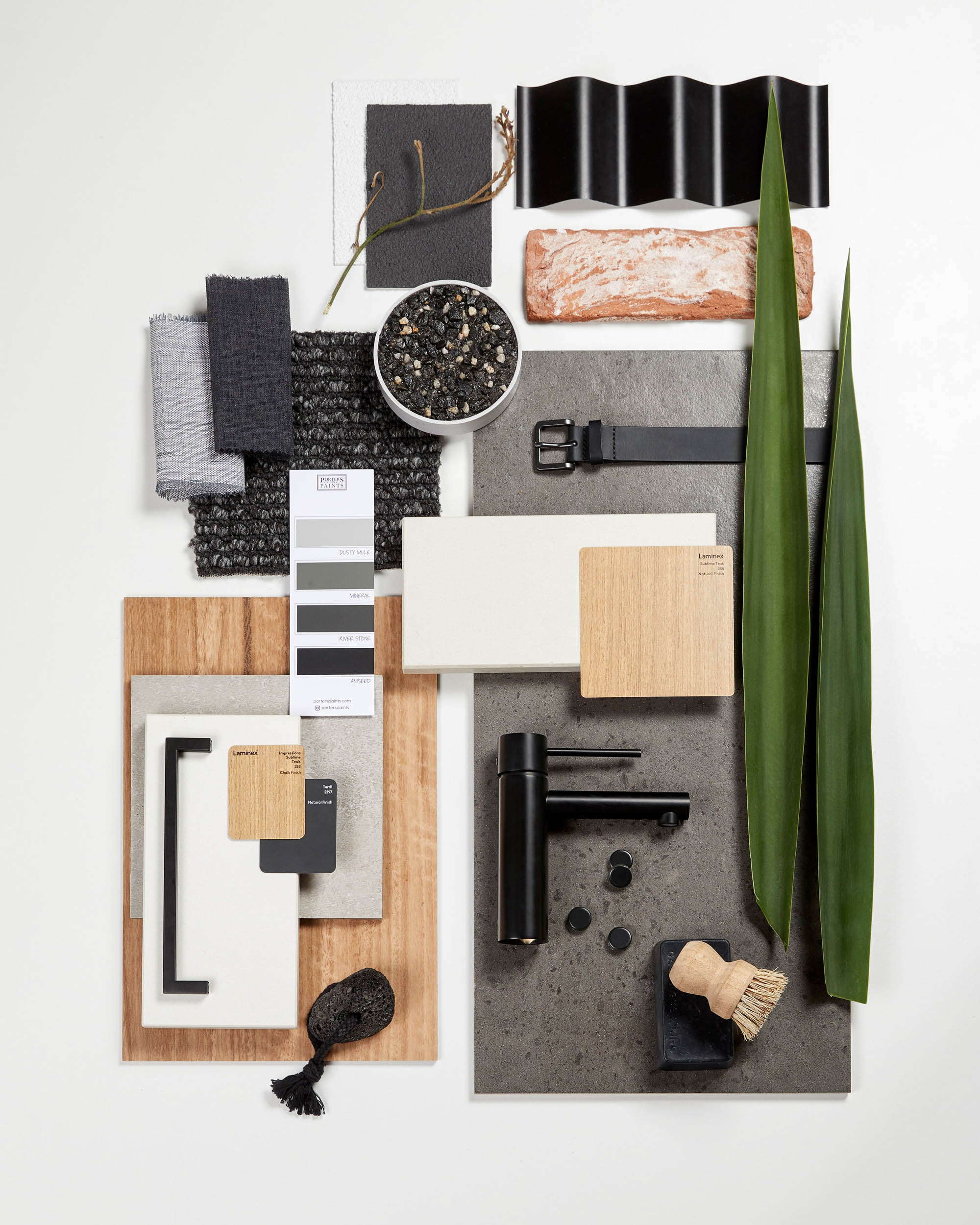 Aesthetically pleasing Architectural
Bold and powerful in its use of texture and colour, this style holds a dramatic palette which is thoughtful with a fine sophisticated edge. Whilst confident in style, the incorporation of monochromatic tones creates a timeless base that fits into many landscapes from inner city living to seaside and everything else in between.
Vicki says, "Our mood boards are respectful of the tone and sophistication of what Architecture represents. From the black windows and Garage Door to the textured Black Nuance Kitchen Cabinetry, concrete look Olympia Grey Matt Floor and Wall Tile and finally to the woolen Amelei Salerno Carpet, the mood is relaxed, yet opulent."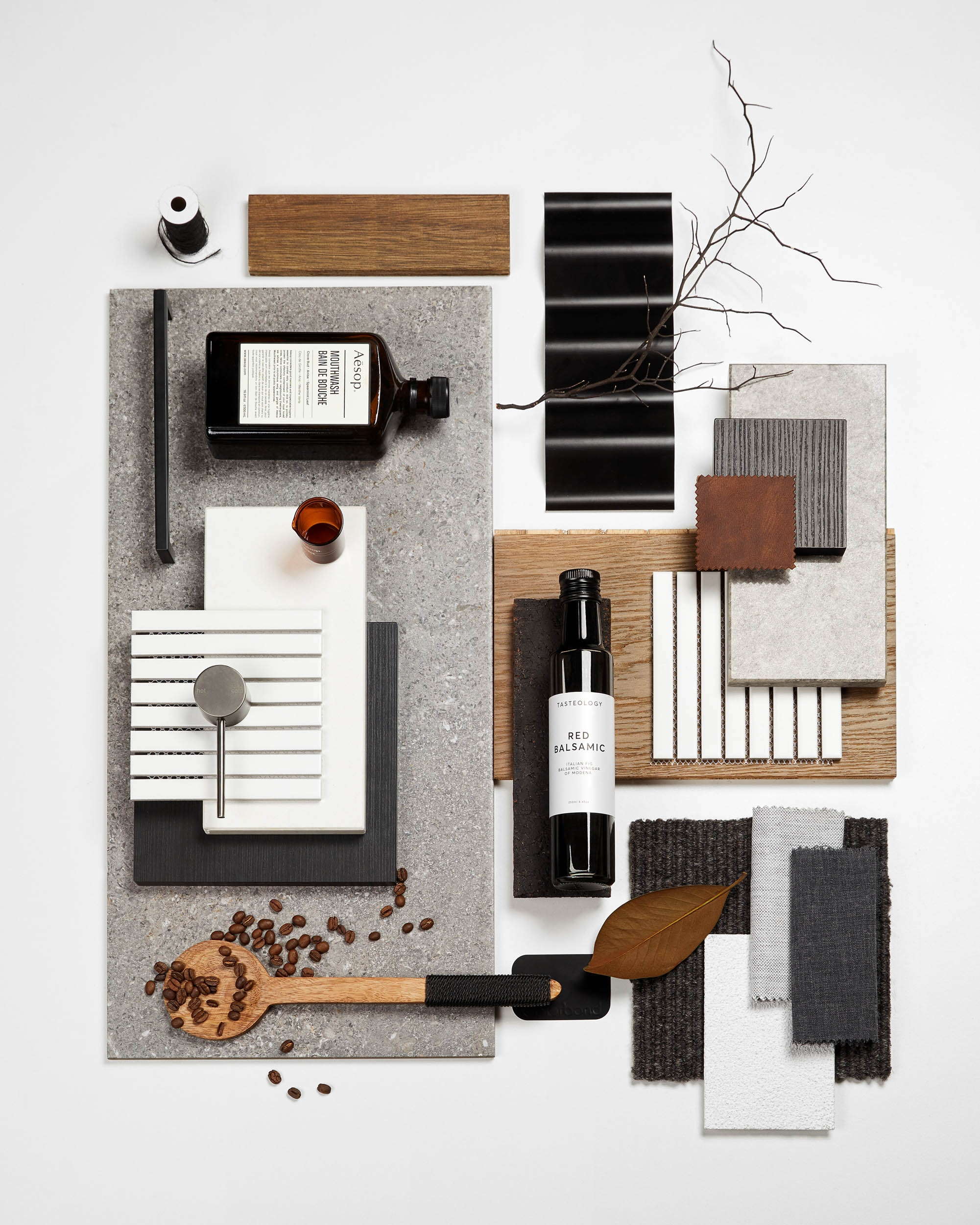 Lofting away
Evoking curiosity and interest, Loft is a crescendo of textures and colours, reminiscent of old Hollywood glamour. Oozing charm and substance, Loft takes cues from Industrial Design, it is simple, yet is an ambiance of timeless elegance.
"With these two mood boards, we were drawn to Austral's Black Rock Brick, to be joined by the Charcoal Light Render and Monument Garage Door, roof and windows. With the interior mood board, Dulux's Grey Pebble paint works perfectly with the Concrete White Matt Rec Wall and Floor Tile by Surfaces by Hynes. The carpet of choice for Loft is Carpet Calls Grand Escape Buenos Aires."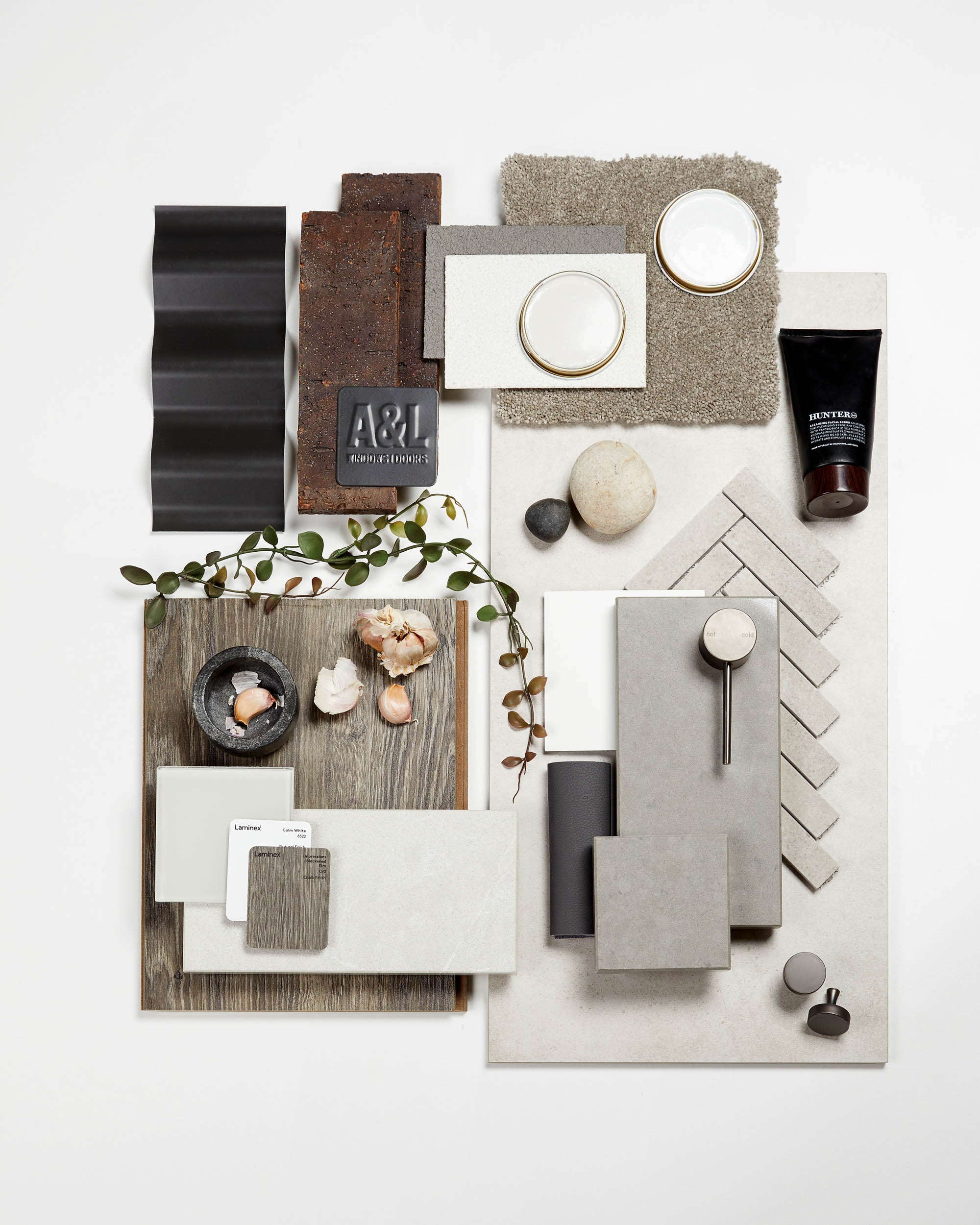 Breeze into Coastal
When you envisage coastal, it is an interior and exterior palette that is fresh, crisp and teamed with inviting blonde timber accents. Coastal creates a soothing visual harmony with the warm, honest tones suiting both traditional and contemporary design.
"It was effortless to create these mood boards which include Polar White Natural Kitchen Cabinetry by Laminex, Stella Moon Lappato Floor and Wall Tile and Amber Earl Grey Woolen Carpet by Carpet Call. For the exterior, we were inspired by Dulux's colour Foxdale for the Render, Blonde Oak Stain and Austral's Praline Brick to bring the look together."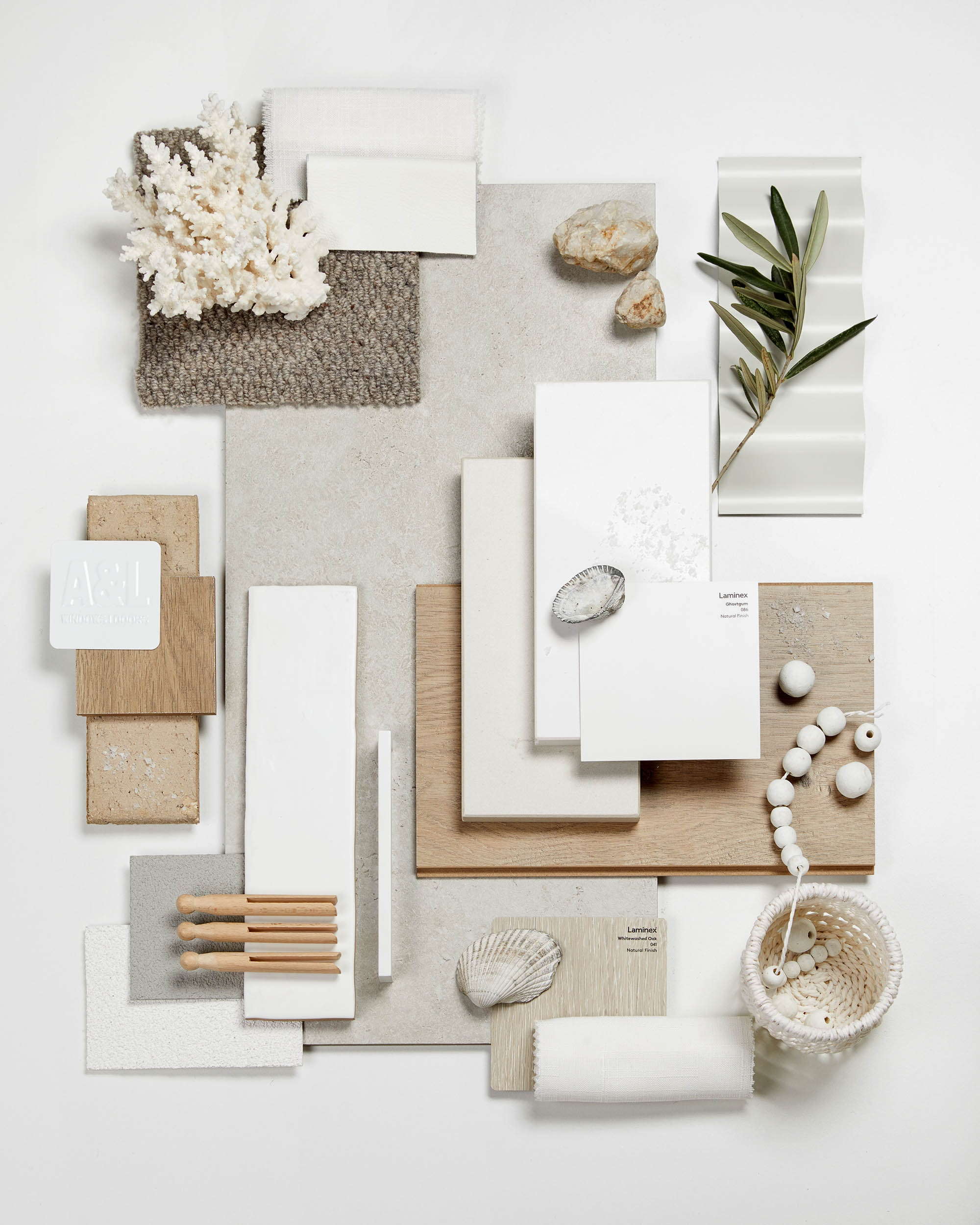 Laid back luxury with Retreat
Synonymous with your ideal holiday getaway, Retreat allows you to immerse yourself in warm textures, natural timbers, linens and stone. Retreat is a fusion of indoor and outdoor details connecting the façade to the interior design.
"For the mood board, we wanted to celebrate that fusion, with Austral's Stone Brick, Natural White Render and Colorbonds Wallaby for the Garage Door and Roof. Inside, Surfaces by Hynes Brooklyn Newton has been chosen for the timber laminate flooring, Organic White by Caesarstone for the Kitchen Benchtops and Carpet Call's Barlow Rustic Taupe for the Carpet."
Regardless of which style you choose, the Henley Design team will guide you through every design element in your home-building journey.
"We know every decision for your family home is a significant one, so it is so important to take the time to select from the heart and the head!"