Splash out on your splashback
The kitchen splashback has become so much more than protecting your kitchen wall against spills and stove heat. A kitchen is not complete without a well-chosen splashback to finish off the look and theme of your kitchen. But the choices are endless – from glass, tiles to stone and pressed metal, how do you decide which splashback is perfect for your kitchen and will stand the test of style time?
Henley's Colour and Electrical Consultant, Cassandra Lynch, shares her splashback secrets and how to get the inspiration you need to make your Kitchen stand out.
Get Inspired at St Claire
Cassandra says, "Henley's beautiful new St Claire display in Wollert, offers a diverse range of stunning feature tiles as the splashbacks."
"Our favorites are showcased in the Bravo 23 display which is a 100 x 100mm Nordic square white tile, the grey fan mosaics in our Seaside Retreat themed Carmelle 28, and our dainty white gloss herringbone tiles in our Lexington 32 which are a perfect modern take on the extremely popular Hamptons style."
"The Grey Cinder Fan Polished mosaic tiles are a new addition to our range of tiles and a new tile we haven't used in any of our displays prior to St. Claire! We have also launched a new range of industrial subway tiles which is displayed at our brand-new Ashbury 30. Here, we have used 'Nanda Brick Black Night 60 x 200mm' and have laid it horizontal with a 1/3 offset brick pattern which accents our timber-look overhead cabinets."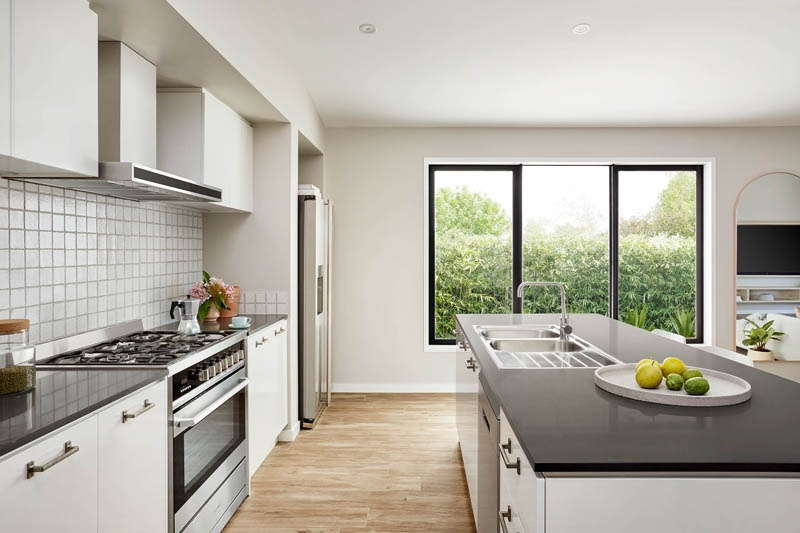 What is hot in splashbacks?
Tiles have made a comeback and are featured throughout the St Claire Display Village.
"There are so many choices, and they don't have to be expensive either! You can choose a small sized subway tile and lay it in a herringbone pattern or laid vertical and stacked is really popular – there are just so many great options now to really complement any Kitchen! I also believe that tiles feel more homely." Cassandra adds.
Splashback selections
Plan out whether the splashback is going to be the focal point of the space or if it needs to be more subdued to feature another element.
"Tiles are available in endless shapes, sizes and also faux finishes to really bring character to a space. They can be a huge statement to a simple white Kitchen."
"Another aspect to consider is how you use your kitchen. Do you cook all of the time with lots of oils? If so, you may prefer to select a glass splashback instead of tiles so that you don't have to clean grout lines all of the time. Or, if you hate seeing the reflection of the oil on the glass splashback and would prefer tiles, maybe you could seal the grout lines annually to make it easier to clean or choose larger tiles so there isn't as much grout! There are so many different options, but we can always ensure the right one is selected for your house." Cassandra adds.
Cassandra says, "Additionally, consider the lighting to the space. You may be adding under cabinet lighting, which can help to enhance the splashback, and also brighten the space, if you are wanting a darker splashback."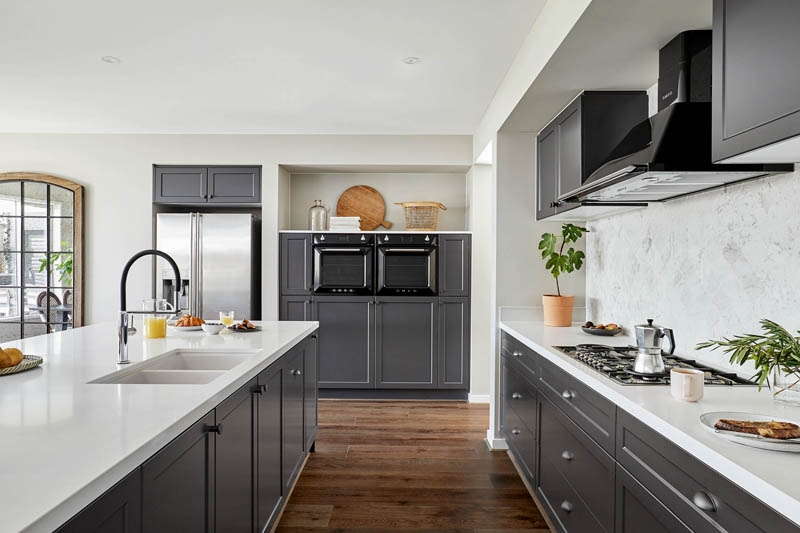 Avoiding these mistakes
Choosing too many competing elements in the Kitchen is a big no no! "If you have chosen a detailed marble benchtop, don't then choose a busy patterned hexagon tile as this will detract away from the beautiful stone. You would get a better result running the same stone up as the splashback (if you can) or selecting a neutral plain tile or glass splashback to complement the stone. You need to decide if you want the splashback to be the hero, or whether you want it to complement other elements." Cassandra adds.
"Another common mistake is selecting a beautiful tile but getting the grout colour wrong! Remember, if you are trying to make the splashback subtle, choose a matching grout colour. Choosing a dark tile with white grout can be very busy and depending on your other materials/colours, may overpower the space rather than accenting the other elements."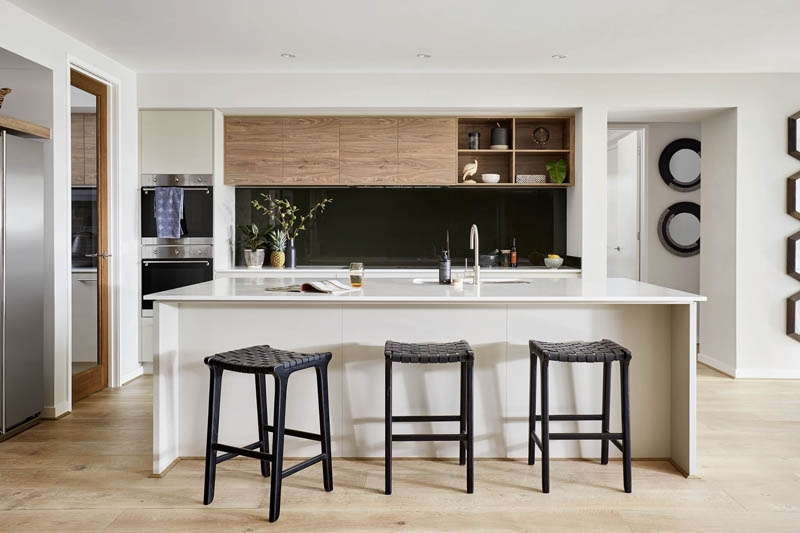 Safety comes first
When selecting splashbacks, you need to consider the type of cooktop you have. Different types of cooktops will require different clearances from the centre of the burner to the splashback. This may then determine the material required to comply. For example, if you would love a Caesarstone splashback to match with your benchtop, you cannot have this with a gas cooktop and would need to have an induction cooktop instead.
My favourites
Cassandra loves the Nordic Square 100 x 100mm gloss white tiles we have used in our new Bravo 23 in St Claire which are very 60's but feel homely and contrast so well with whites and timber accents.
"My favourite is the classic subway tiles laid vertical and bricked – we have so many different colours and sizes so the possibilities are endless!
"We also offer Dekton at Henley which is an alternative stone option which you can use as a splashback as well as the benchtop – even with a gas cooktop! These are a beautiful seamless option without any grout lines or glass streaks to clean which is an added bonus!"