Fall in love with your laundry
As one of the most used rooms in the family home, the demand for an intuitive, intelligent and beautiful laundry is high on the list of priorities for would-be buyers, according to Henley.
While the lure of the laundry may not be that appetising for some, there is so much you can do to transform this from a room you dread entering, to one your excited to visit.
Micaela Austin, Henley Design Showroom Manager, knows too well the daily demand for a laundry in a busy household.
"Time and style conscious families want a laundry space jam packed with functionality and storage to create the ultimate laundry. And it is also important that the laundry is stylish and beautiful to look at.
Micaela shares her insights on what you need to know in creating the ultimate laundry.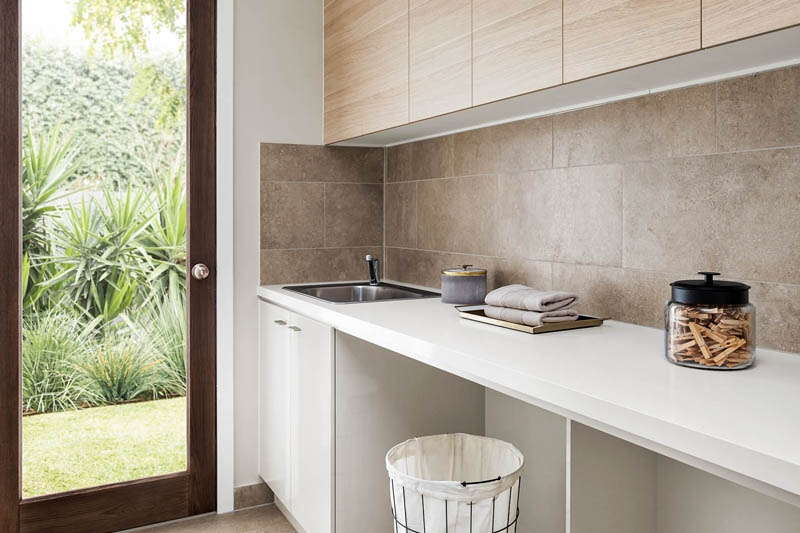 Sights on storage
According to Micaela, it is important to take into consideration all the items you will be storing in the Laundry space before deciding on the type of storage you require.
"If you're on a budget, it's a great idea to split the shelving inside the linen cupboard to be part-linen/part-broom. You then have an area to tuck away all your taller items such as mops, brooms, and ironing boards without compromising on space by needing to add in a separate broom cupboard."
"Overhead cabinets are perfect to store all your cleaning products and cleaners, that need to be out of reach from children. Open shelving can enhance the design and is perfect for baskets or frequently used items, so they are easily accessible."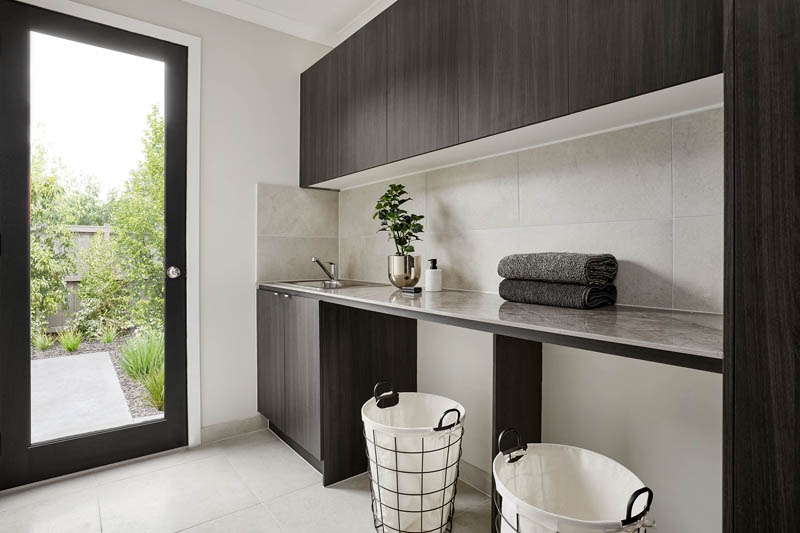 Extended style
Micaela says, "Some other great items to add are hanging rails. These can be super stylish, as you might use copper/metal pipes to give an industrial feel. It draws the eye, as an area of interest, but it functional too."
"Added greenery in the laundry such as a hanging basket featuring wisterias or a string of pearls, adds a pop of colour."
All in the detail
Built-in solutions such as washing and ironing hampers will keep the room feeling organised, even when the laundry pile is high. Tiling from floor to ceiling gives the laundry an opulent look, and at the same time, keeps the room clean and functional.
"Air dryers are also a chic add-on giving the laundry another functionality hit, while also saving energy and money on electrical clothes drying. An extended benchtop makes sorting, folding and stacking clothes a breeze," Micaela says.
"We are seeing more front loaders being used in Laundries to not only save on space, but also allows for extended bench space as the bench is able to run the length of the room without interfering with opening and closing the washing machine."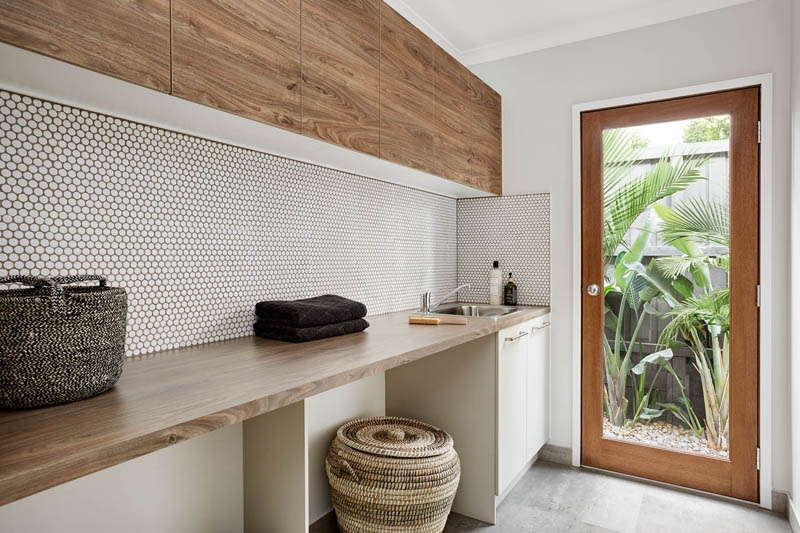 Clean colours
While white is often the colour of choice, latest on trend laundries are boasting a touch of colour including light greys and a hint of natural trimming to add some texture and colour. White or stainless steel appliances will pop against hints of colour in the tiles and benchtops. With the laundry being light and bright, it complements the idea that clothes and items become clean and fresh.
"Look for classic colours such as white and grey or black. Incorporating some natural materials like timber flooring or cabinetry and stone benchtops in your scheme works well too to give the space some warmth." Micaela adds.

"Splashbacks that feature decor tiles, or something as simple as a small matt white double herringbone tile paired with a contrasting darker grout colour creates a visual impact in the room."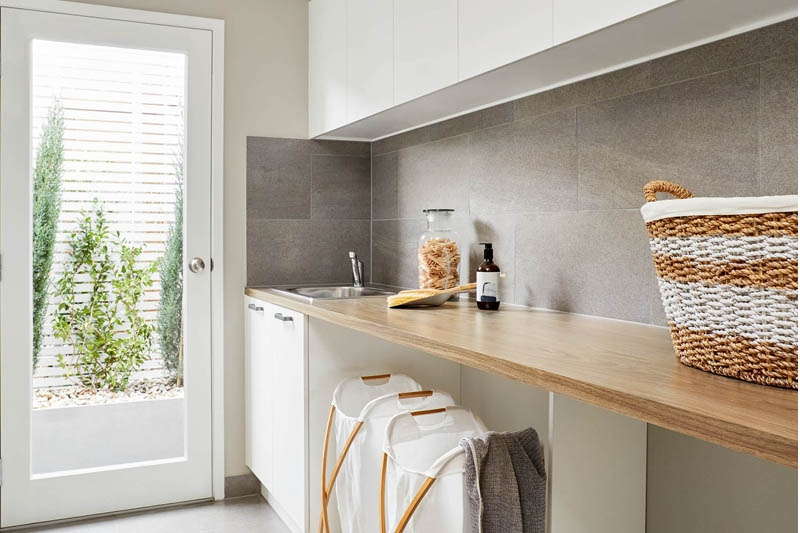 Room to store, sort and stack
Some families opt for huge laundries to cater for the daily demands, with some Henley laundries being four metres long! This suits large families as storage is very important and the extra space is ideal to store assorted items from family members. Henley also offers more compact sized laundries for smaller families, but still with ample storage options.
These are a few tips to make your laundry fun and inspiring, that way someone else might volunteer to do the washing for a change!
Visit https://henley.com.au/home-designs to check out all the new Henley homes and laundry layouts.