Collection:
Henley Collection
A home that doesn't follow the rules. The design has been flipped, reversed and shaken up to create the sort of layout that you don't see very often. If you don't consider yourself an average family then this one might just work for you!
Read more +
The first unusual feature is the position of the master suite – it's been placed at the back of the home, away from the main entry where street noise may be an issue, or older kids may be coming and going.
Now get ready for the next rule-breaker – the alfresco area. This has been placed behind the theatre to create a really unique space to relax and entertain. You can throw open the alfresco doors and spend hours watching the tennis in summer or host a party. You can then close the doors and bunker down for movies in the air conditioning - or under the blanket (thanks Melbourne weather!).
Kids will appreciate the spacious bedrooms all with built-in robes and with three entertaining zones there's a place for everyone to unwind/escape.
It's not just the unique layout that makes this a great house, it's all the finishing touches too. The main bathroom has its own separate powder room and the master ensuite includes double vanity and a dressing room big enough for two.
In the kitchen, the kids will love sitting up at the island kitchen bench for meals and there's a butler's pantry so you can leave the dishes until after dessert, or later that night…ok, maybe in the morning.
You can love your family that little bit more when you're not on top of each other, so with the family room plus separate theatre (which could double as a games room) the love will be abundant.
Break some rules and walk to a different beat in the Geneva.
Read less -
Total Home Size

25.68sq (238.6 m2)
4
2
2
3
Unique features

Powder Room

Theatre

Alfresco

Butler's Pantry
Download brochure »
Living 5150 x 4180
Dining 3000 x 3850
Theatre 4550 x 3900
Master Suite 4220 x 3820
Bed 2 3620 x 2900
Bed 3 3620 x 2900
Bed 4 3600 x 3000
Ground Floor 183.1 m2
Garage 36 m2
Porch 4.5 m2
Alfresco 15 m2
Length 23.72 m
Width 11.30 m
Total Home Size

28.61sq (265.8 m2)
4
2
1
2
3
Unique features

Powder Room

Theatre

Alfresco

Butler's Pantry
Download brochure »
Living 5570 x 4360
Dining 3820 x 3800
Theatre 5030 x 3900
Master Suite 4730 x 3820
Bed 2 3320 x 3000
Bed 3 3550 x 3000
Bed 4 3600 x 3000
Ground Floor 210.5 m2
Garage 36 m2
Porch 4.7 m2
Alfresco 14.6 m2
Length 23.72 m
Width 12.65 m
Pricing displayed is based on the standard Broadway façade and standard inclusions. All images are representative and may include upgrades.
Showing 1 available House & land packages
Monterey 34, Lot 1049 Hodgson Avenue, Tarneit (Habitat)

lot size XX.Xsqmmin. lot width XX.Xm+min. lot depth XX.Xm+
View the home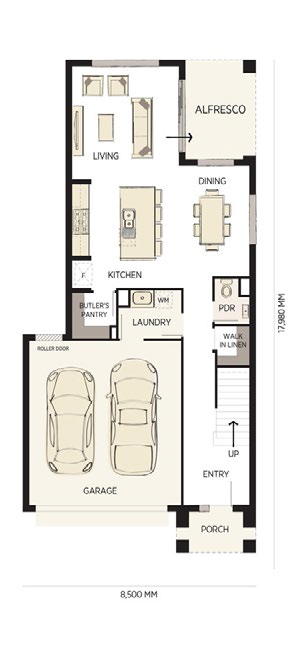 Reasons to build with Henley
Our guarantees
The confidence we have
in our work and our people
is reflected in the fact we offer
the most comprehensive array
of guarantees and support
in Australia.
Find out more »